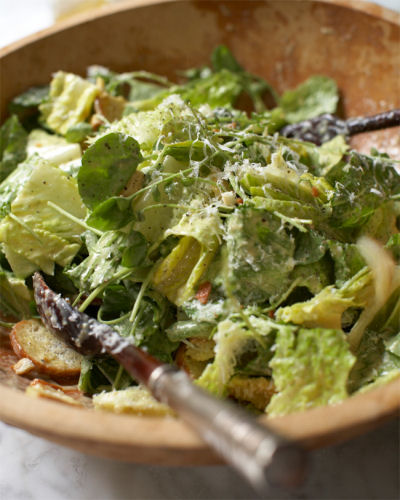 Who would think that a classic Caesar Salad would be made by a Pizza Shop? Well in Troy NY of all places it was, at Franklyn's Pizza & Wings, 679 Burden Avenue, Troy, NY (Now Closed)
Not exactly how it might be made as Caesar Cardini made it years ago, it has morphed into many things over the years. Most restaurants now buy a pre-prepared bottled dressing and then add, grated or shredded parmesan cheese and sometimes homemade croutons. Often the croutons are even bought from their food service supplier and the romaine is pre-washed and pre-cut too! Where are the anchovies? Well most people don't like them so they many be left out of the salad completely.
Somewhere, after Cardini created the salad, Worcestershire Sauce was added to the composition. This may have happened when Chefs were told of the dish and they tried to recreate it. I feel that the Worcestershire addition is a good thing.
Here is the Classic Caesar Salad Recipe---The way it was prepared at the old Ritz-Carlton Hotel in Boston by tuxedoed Maitre d'hotel Joseph Lucherini in the 1970's & 80's