Tomato Sauce, Pomodoro or Marinara?
Canned tomatoes are already cooked, that's because the process of canning actually "cooks" items in the can using heat. Ask any home canner about "putting-up" the harvest for future use and they'll say that anyone can do it. There are many recipes, guides and canning instructions on the Internet, and reading materials abound. The USDA provides safe recipes and instructions on its website https://www.foodsafety.gov/blog/home_canning.html

Many Agriculture Colleges and University Extension Schools do as well and so do canning equipment suppliers, just search for canning in your web browser and you'll find information.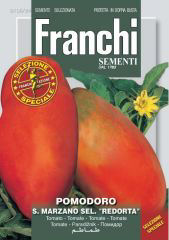 Tomatoes may be grown in the USA, Mexico, Canada, Argentina, Israel or Italy. Italian San Marzano tomatoes to some are considered the best. What about USA tomatoes, particularly from California? Consider the brand, Hunt's verse Pastene, what's the best---and consider what's affordable?
A few brands to look for that are pretty good in my opinion are---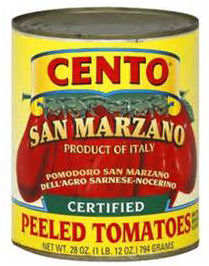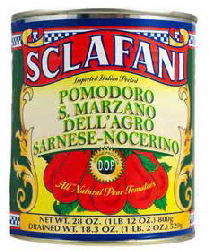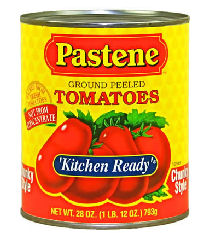 Cento Italian San Marzano
Pastene Chunky Kitchen Ready Tomatoes
SclafaniItalian San Marzano Tomatoes
Cento all-Purpose Crushed Tomatoes
Pomi Italian Chopped Tomatoes (in a box)
Hunt's Whole Peeled Plum Tomatoes
Furmano's Ground Tomatoes
Muir Glen Organic Whole Peeled Tomatoes

A little known fact is that many excellent pizza shops make their tomato "pizza" sauce cold and not cooked---heresy or wise? Well from my point of view it works and gives better flavor. Why? As mentioned above the sauce is already cooked in the canning process, so why cooked it again when making the pizza sauce and then yet again when the pizza is baked? So a pizza shop that uses the cold sauce preparation method is only cooking the sauce twice. Also look at it this way---make homemade tomato sauce and cook and serve it for dinner, you have leftovers and can reheat the sauce the next day. It tastes good but it isn't that nice color of yesterday and it is much mellower and maybe will even need to be re-seasoned because it lost its zing. Hmm, you say there might be something to this?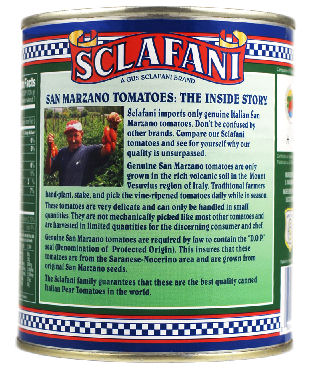 Let's talk tomato sauce; there is the old school method, cooking for 5-6 hours and new school method of cooking for 20 minutes. What's the difference between pizza sauce and "spaghetti or tomato sauce" to an American or that fact a non-Italian? Tomato sauce as non-Italians call it, might be Marinara, Puttanesca, Amatriciana, Bolognese or any number of variations to an Italian. Sauce Pomodoro in Italy is made from fresh peeled and seeded tomatoes, olive oil, garlic, salt, pepper and is cooked smooth. FYI---it is almost exactly the same as marinara but marinara has fresh basil and is pulpy, not totally smooth. Also note that in Italy, during tomato growing season, any serious cook will never use canned tomatoes to make sauce, it must be made fresh! If you run into my friend Bruno from Naples and start the discussion about fresh tomatoes canned when fresh is available, you'll be engaged in conversation that shows his disdain for canned, except for when fresh ones are not available. In Italy that's almost never because there are some growing in every region, almost year round and when not, they are available from North Africa or Israel!

Cooked or not cooked, that is the question, and you will have to judge for yourself. Here are two recipes to try and instructions on how to serve them. One is the classic Italian Salsa di pomodoro and the other Salsa alla Marinara that originated in Naples. Salsa di pomodoro, according to an Italian friend, is made by the following method---Boil pot of water, blanch tomatoes, 3 liters, for a few minutes, drain, cool in cold water, peel them, remove the seeds, and chop into small pieces. In smaller pot, some olive oil-not too much, about 1/4 cup, some chopped onion-3/4 cup and quartered garlic clove the size of your thumb nail. Add the tomatoes, remove the garlic, and add 2 tbsp. sugar, 2 tsp salt and 1/2 tsp. ground white pepper. Bring the sauce to cook slowly so onions are soft and the sauce is smooth. Eat with spaghetti with a few basil leaves and Parmigiano Reggiano.

Salsa alla Marinara, to another Italian friend from Naples, so simple to make and should not cook for more than twenty minutes and must be made from only San Marzano Tomatoes! I really like to make my sauces using this short cooking method. They are always fresh tasting, light and well balanced---as I've said, why cook the tomatoes again after they were already cooked in the canning process.

In essence tomato sauce is the base of other sauces. The Academia Italiana della Cucina, the governing association of Italian Cuisine, sets standards worldwide and asks Italian born chefs to pledge to insure authentic representations of dishes based on recipes and methods of the Academia. Would they approve of the method that some chefs in the western world use when making sauce Bolognese? Some chefs prepare a marinara sauce first when making sauce Bolognese, and then brown the onions, carrots, garlic and beef. When browned, they add the marinara and cook for 60 minutes. The same approach applies when they make a Ragu---that's because they really don't know how to make or have ever experienced eating one made by an Italian for Sunday afternoon dinner. In Italian cuisine, a ragu is a sauce of braised or stewed meat that may be flavored with tomato, to distinguish it from a tomato sauce that is flavored with the addition of meat. In southern Italian regions, ragus are often prepared from whole cuts of beef and pork, and regional sausages, cooked with vegetables and tomatoes. In northern Italy, lamb, duck and even venison may be added. Technically sauce Bolognese is classified as a ragu. Then there are the Italian-American versions that were adapted from the original recipes as Italian immigrants came to the Americas and were then forced to use ingredients that were common here. Growing up, an Italian family lived down the street from me, and I often was invited to Sunday dinner where the grandmother prepared her ragu consisting of pork chops, sausages, meatballs, chicken and pepperoni all cooked for 4 hours in tomatoes, onions, garlic and green peppers. First you ate pasta with some of the sauce and then the meats were eaten with bread, salad and lots of red wine to wash it all down---of course they only gave me soda.

Let's look at a few recipes from some well-known cookbook authors, chefs and cooks.

Marcella Hazan's Tomato Sauce (Salsa Pomodoro)

2 pounds fresh, ripe tomatoes (blanched, peeled, and chopped) or much easier, 2 cups canned imported Italian plum tomatoes (I used a 28 ounce can of San Marzano), cut up, with their juice
5 tablespoons butter
1 medium onion, peeled and cut in half
Salt

Instructions:

Put either the prepared fresh tomatoes or the canned in a saucepan, add the butter, onion, and salt, and cook uncovered at a very slow, but steady simmer for 45 minutes, or until the fat floats free from the tomato. Stir from time to time, mashing any large piece of tomato in the pan with the back of a wooden spoon. Taste and correct for salt. Discard the onion before tossing the sauce with pasta.

Lidia Bastianich's Marinara Sauce (Salsa Marinara)

28-ounce can whole or crushed San Marzano tomatoes
7 cloves garlic
1/4 cup extra virgin olive oil
⅛ teaspoon crushed red pepper or a small dried whole chile
1 teaspoon kosher salt
1 large fresh basil sprig or 1/2 teaspoon dried oregano

Directions:

If using whole tomatoes, pour them into a large bowl and crush with your hands (skip this step if using crushed tomatoes). Pour 1 cup of water into the empty tomato can and slosh it around to get the tomato juices. Set aside.

Peel the garlic and slice it as thinly as you can.

Place a large skillet on the stove and turn the heat on to medium. Add the oil and heat until it shimmers (about 1 minute). Add the garlic. As soon as garlic is sizzling (do not let it brown), add the tomatoes, then the reserved tomato water. Add the crushed red pepper or whole chile, oregano (if using) and salt. Stir.

Place basil sprig, including stem, on the surface (like a flower). Let it wilt, then submerge in sauce. Simmer sauce until thickened and oil on surface is a deep orange, about 15 minutes. (If using oregano, taste sauce after 10 minutes of simmering, adding more salt and oregano as needed.) Discard basil and chile (if using).

Good Cooking, Chef John's Marinara Sauce (Salsa Marinara)

4 tablespoons olive oil, extra-virgin
1 Tbsp. chopped garlic, about 2 nickel size cloves
1/2 teaspoon ground white pepper
1 pinch cayenne
1/4 tsp. dried oregano
1 28-ounce can of crushed tomatoes in puree, Pastene brand is very good!---or Centro San Marzano Plum Tomatoes plus 4 ounces water to rinse out the can
1 tsp. Kosher salt
1 tsp. sugar

Preparation:

Warm the garlic in the oil to release the aroma (1 minute on low heat, don't brown). First add pepper, cayenne and oregano, then the tomatoes rinsing out the can followed by the salt and sugar. Bring to a boil, then reduce the heat to low and simmer partially covered for 15 minutes, no longer---stir occasionally.

* Note: If using San Marzano tomatoes, then briefly liquefy them using an immersion blender or pass the entire sauce through a food mill to puree.