Convert the recipe

to another language.

Chicken Kabobs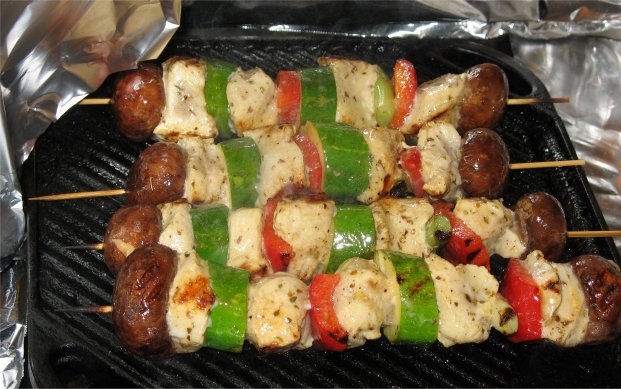 Recipe by: Chef John V., A Good Cooking Recipe!
Serving size: 1 kabob per person, recipe is for 4 skewers
Preparation time: about 40 minutes
Amount/Measure/Ingredient:
1 whole boneless and skinless chicken breast, cut in half and trimmed of gristle and excess fat
2 tbsp. olive oil
1/2 tsp. garlic chopped
1 tsp. oregano
1/4 tsp. thyme leaves
1 tsp. soy sauce
1 tsp. lemon juice
1 tsp. coarse salt
1/4 tsp. ground white pepper

1 red pepper, cut in 1 1/2 inch chunks
1 bunch scallions, mostly the white parts, cut in 2 inch lengths
8 ounces Crimini mushrooms, whole with stems cut off
2 small zucchini, sliced 3/4 inch thick
2 tbsp. olive oil
1 tsp. coarse salt
Preparation:

Trim the whole boneless and skinless chicken breast, first by cutting it in half along where the breast bone once was and cutting away the white grizzly connecting tissue. Then trim away any of the remaining fat it may have. Cut each half of the breast into 2 or 3, 1-inch wide long strips, and then cut the strips into 1-inch chunks. Place in a bowl or plastic bag to marinate with the olive oil, garlic, oregano, thyme, soy lemon juice, salt and pepper. Marinate for at least 1 hour.

Wash the vegetables and dry with paper towels. Cut into the size mentioned above. Combine in a bowl or plastic bag and toss with olive oil and salt.

Using metal or wooden skewers, first skewer a mushroom, then chicken, then red pepper and a scallion, then chicken, then zucchini and then; in reverse, chicken red pepper and a scallion, chicken, zucchini, chicken,and finish with a mushroom cap. OR any order you like. Any leftovers can additional skewer, just chicken, or vegetables. I like to put the mushrooms on the end of the skewer so they will cook through. Too dense of a skewer and one skewered too tightly, slows and prevents the heat to penetrate and cook the skewer.

Grill, on a charcoal, wood, electric or gas grill. I used a stovetop pan grill for my skewers and cooked them over medium heat for about 15 minutes.