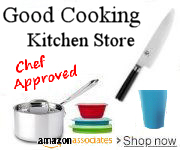 Good Cooking since 1995



Improve for the future!

Now is the time to improve your business!

Don't Wait Until It's Too Late: Contact Good Cooking Today!
Good cooking supplies a vast variety of food related services to individuals and the food industry. Internet awareness and computer training, Internet site construction and going live. Marketing, promotion and consumer awareness. Restaurant start-up and implementation of systems, the basics of how to start a restaurant.
Food Service Consulting

Cost Controls

Culinary Education and Food Service Training

Menu & Wine List Development

Website/ Internet Presence

Food Safety Awareness

Brainstorming

Marketing

Hands-on Instruction

Operational Review
Your future is now!
Don't Wait Until It's Too Late: Contact Good Cooking Today!

Chef John J. Vyhnanek, Consulting Chef Services, Prop.
Areas of expertise:
Business plans; cash flow analysis, budgeting, startup planning and bank financing.
Restaurant and kitchen design; proper layout and equipment selection. Maintenance schedules; protect your investment-take care of your equipment.
Efficiency expert; all phases of not wasting time and money.
Wine List and Menu Specialists; selection, design, proper pricing and implementation.
Menu implementation: Standardize recipes, training of dining room and kitchen staff.
Systems layout and training; every aspect from cleaning to guest services.
Vendor selection; finding the products you need at prices that make sense.
Receiving and inventory implementation; how to accept products and account for them.
Marketing/Sales/Advertising; The how and why of successful promotion, press and beyond.
Customer awareness; instill pride of customer service in all staff. Community Acceptance; help you work to achieve harmony with the community.
Sanitation; clean facilities and safe food preparation and service.
Computer systems and software planning; determining your business needs and conducting training.
Cost Controls; know how to control your costs through purchasing, pricing and waste prevention.
World Wide Web/Internet development; Layout and design of your web site and e-mail.
Planning for the future, expansion, moving, exit strategies, selling your assets.
Job descriptions, employee manuals and operation procedures; help you write them.
Loss and fire prevention, safety procedures and emergency planning.
Quality assurance; only the best service and employee cooperation will do.
Staff training, front and back of house; training your staff to be efficient and professional.
Inventory utilization; get the most out of your stock.