more info:
How many ways has the original recipe been changed, reinterpreted, modernized or just mucked-up by chefs not knowing the correct way of preparing it or by websites that just want to be trendy! I've seen additions of white wine, garlic, Swiss cheese, Cream cheese, marscarpone, Cheddar cheese, Romano cheese and others. Then there is the change of pasta to rigatoni, spaghetti, wagon wheels , macaroni and I even saw a chef use Japanese Udon noodles! And there are chefs who use a cream sauce, anchovies, sun dried tomatoes, demi-glace, a beurre blanc and cream reductions---why? For the sake of culinary creativity I guess, but why destroy a dish as simple and beautiful as the original?
Chefs today and websites should learn the correct way of making this classic pasta dish and if they can't make it correctly, either don't put it on the menu or call it by another name. This in my opinion should be for all classic recipes! One place you can be sure to eat it as it was intended to be made is at Ristorante "Il Vero Alfredo - L'Imperatore delle fettuccine" | Piazza Augusto Imperatore, 30 - Roma---that's where the family of Alfredo still carries on the tradition of making it exactly as it should be made and I say: Bravo---Excellent!!!
The original recipe, and the one today, was and is a matter of the chef knowing the correct proportion of the weight of the pasta to the amout of butter and Parmesano. I'm sure that it is setup in the kitchen on a very hot plate and then mixed and tossed in the dining room by a waiter---but there is a secret to the way they make it at Il Vero Alfredo--- it's the love put into each and every dish from the kitchen to the dining room. They prepare it with passion!
Chef John's interpertation of the recipe---
for 2-3 portions---
1 pound/456 g fresh thin fettucini noodles---1.25 mm thickness
1 stick, 4 ounces/ 115 g of unsalted butter, the best quality
1 1/2 cups of fresh grated, Parmesano Reggiano at least 18 months of age

Mix the butter and cheese into a smooth paste with a pinch of ground white pepper and set aside at room temperature.

Heat a thick Pyrex mixing bowl or deep serving plate under very hot running water and then pat dry just a minute before the draining of the noodles.

In salted boiling water that tastes as salty as ocean water, boil the noodles until they float to the top and then 1 more minute (about 3 minutes total). Drain and save some of the pasta water.

Place the butter and cheese mixture in the hot bowl, add the cooked noodles and about 3 ounces of pasta water. Then toss, mix and stir until the noodles, cheese and butter are a creamy mixture for 2- 3 minutes. Do this quickly and gently.

Serve on warm plates or in bowls with extra grated cheese if you like.

This is my interperation of the recipe, which I feel will be fairly close to what is served in Rome at Il Vero Alfredo.
Alfredo and some of his Guests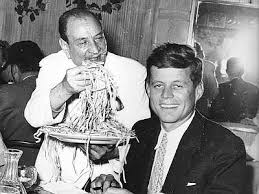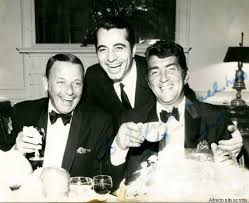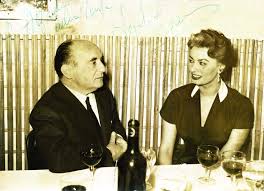 For more information and or reservations when in Roma
http://www.ilveroalfredo.it/
Written and sent to goodcooking.com by Ines Di Lelio, the granddaughter of Alfredo---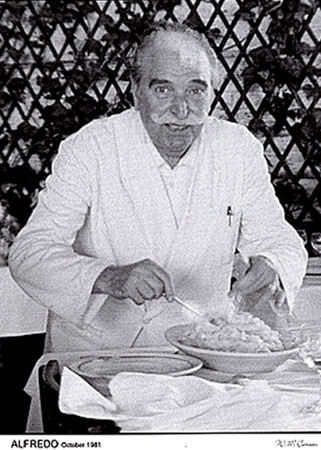 "Alfredo Di Lelio, who is the creator of "Fettuccine all'Alfredo" ("Fettuccine Alfredo") in 1908 in the "trattoria" run by his mother Angelina in Rome, Piazza Rosa (Piazza disappeared in 1910 following the construction of the Galleria Colonna / Sordi). This "trattoria" of Piazza Rosa has become the "birthplace of fettuccine all'Alfredo".

More specifically, as is well known to many people who love the "fettuccine all'Alfredo", this famous dish in the world was invented by Alfredo Di Lelio concerned about the lack of appetite of his wife Ines, who was pregnant with my father Armando (born February 26, 1908).

Alfredo di Lelio opened his restaurant "Alfredo" in 1914 in Rome and in 1943, during the war, he sold the restaurant to others outside his family. In 1950 Alfredo Di Lelio decided to reopen with his son Armando his restaurant in Piazza Augusto Imperatore n.30 "Il Vero Alfredo" ("Alfredo di Roma"), whose fame in the world has been strengthened by his nephew Alfredo and that now managed by Ines, with the famous "gold cutlery" (fork and spoon gold) donated in 1927 by two well-known American actors Mary Pickford and Douglas Fairbanks (in gratitude for the hospitality).

I inform you that the restaurant "Il Vero Alfredo –Alfredo di Roma" is in the registry of "Historic Shops of Excellence" of the City of Rome Capitale."
Photo Credits:Ristorante "Il Vero Alfredo, huffington.post.it, cultureamanti and public domain images.