I have found one recipe that I think sums it all up as a good one along with a picture that is a great representation of it and there are no beans!
Depending on nationality and geographic location, particulary in the USA, it might be fried chicken, pizza, steak, shrimp, mac and cheese or chili. The time of year might influence the answer too!
Rumors abound as to chili's creation. Was it prison food in the old southwest, stewed rancid meat cooked with water and any chili peppers they could find? How did beans in some versions come to be?
Search the Internet and you will find thousands of websites offering their opinions and suggestions and of course recipes for everthing from fish tacos to pulled pork. One site says that Connecticut's favorite is Strawberry Shortcake and yet another says Strawberry Shortcake is the favorite of Massachusetts. What this---Maine's favorite is Chocolate Chip cookies and not lobster or at least blueberry pie? I can understand New Mexico's favorite being Chili, maybe Colorado and Arizona too!
A good bowl of chili, if made with good ingredients and a little love, is hard to beat, even President Ronald Reagan loved it and his recipe can be found across the internet. For that fact there have to be tens of thousands of variations including the famed Cincinnati version over spaghetti. In my days as a working chef, my black bean and venison chili with homemade flour tortillas gained 4 star reviews from food critics.
Searching the web on this topic yields tens of thousand of beautiful pictures too; too bad I never took a picture of my black bean version. Speaking of beans, does chili have beans or are the beans cooked with chile peppers and onions the chili itself. Why would chili con carne be a different version? Is the meat beef or pork or in my recipe venison and is it ground beef, diced as for stews or as some say a chili grind of coarse meat?
I must admit that in my mind it needs to be accompanied with warm tortilla chips and soft flour tortillas, sour cream and cilantro and if you like, cold cerveza. Beans optional, that is pinto beans or black beans---no kidney beans for me.
The recipe and images are from
https://reilyproducts.com/recipes/carroll-shelbys-chili-con-carne-texas-beef-chili/
Texas Beef Chili
Prep Time: 15 mins.
Cook Time: 240 mins.
Yield: 6 Servings
Ingredients
6 slices thick-cut bacon, cut into 1/4-inch pieces
1 (3-pound) beef chuck roast, cut into 1-inch pieces
2 teaspoons salt
1 teaspoon freshly ground black pepper
1 (12-ounce) bottle dark beer (or substitute extra beef broth)
2 tablespoons coconut oil (or other vegetable oil)
2 small yellow onions, diced
7 cloves garlic, smashed and roughly chopped
1 Anaheim pepper, seeded and stemmed, finely diced
1 jalapeapo pepper, seeded and stemmed, finely diced
2 tablespoons tomato paste 1 (14.5-ounce) can petite diced tomatoes
2 cups beef broth
2 tablespoons cocoa powder
1 Carroll Shelby Original Texas Chili Kit
Chopped cilantro, for serving
Grated cheddar or Monterey Jack cheese, for serving
Sour cream, to taste, for serving
Tortilla chips, for serving
Directions
Season beef with salt and pepper and set aside. Heat a large Dutch oven over medium heat and cook bacon, stirring occasionally, until fat renders and bacon is crisp, about 8-10 minutes. Using a slotted spoon, transfer bacon to a paper-towel lined plate. Sear beef in several batches until well browned on both sides, about 3-4 minutes per side. Transfer to a bowl and set aside. Pour beer (or extra broth) in pot and scrape up all of the browned bits from bottom of pot. Simmer and reduce liquid by half, then pour contents of Dutch oven over into the bowl, over the beef. Add oil to Dutch oven and, when hot, add onions.
Cook, stirring occasionally, until onions are translucent and tender. Add garlic and peppers and continue to cook for 3-4 minutes. Add tomato paste and cook for 2 minutes longer. Add diced tomatoes, beef broth, cocoa powder and Chili Kit Spice and Seasoning Packets.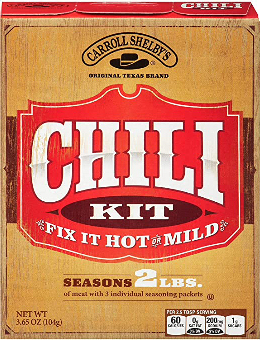 (If you would like a thicker chili, also stir in the Masa Packet included in the chili spice packet.) Whisk until well combined. Bring to a simmer and cook for 2-3 minutes longer. Add beef and bacon back to pot. Cook, covered, stirring occasionally, over medium-low heat for 3 hours or until beef is tender. Serve with chopped cilantro, grated cheese, sour cream and tortilla chips. (I found 2 hours of cooking time worked for me.)