Kung Pao
Is it Gong Bao Ji Ding, Kung Pao or Gong Bao Chicken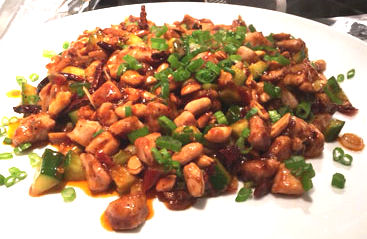 The dish is believed to be named after Ding Baozhen (1820-1886), a late Qing Dynasty official, and governor of Sichuan Province. His title was Gongbao the Palace Guardian, the name "Kung Pao" chicken is derived from this title.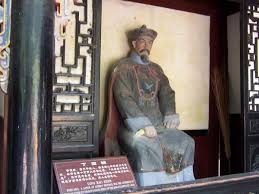 Ding Baozhen was born in 1820, the 25th year in the Jiaqing Reign in the Qing Dynasty, in Guizhou. In 1854, he was appointed a government official. He had been the head of Shandong Province for ten years, and then the governor of Sichuan Province for another ten years. In 1886, Ding died in Chengdu. He is remembered as an outstanding government official, contributing a great deal to the society and much admired by the Chinese people.

Fact or Fiction---"One day Ding arrived home with a bunch of friends but his chef hadn't expected anyone other than Ding. Ding asked him to prepare something in their honor. The chef had only a chicken and some vegetables. So to work he went dicing the chicken meat in small cubes and fried it up with cucumber, peanuts, dried chilis, sugar, scallions, garlic and ginger. Ding and his guests enjoyed the dish so much that it became a regular item the chef prepared. When Ding became Governor General, his chef went with him to Chengdu where he experimented with local ingredients. Soon he perfected the dish as it still is prepared today with broad beans in chili sauce and Sichuan Chili Peppers. It was served at every banquet that Ding hosted and soon became all the rage in the provinces. The dish simple became known as Gongbao Jiding, as his title was, Gongbao the Palace Guardian's Cubed Chicken."

An original version was made with diced dark meat, marinated in Shaoxing wine and then wok fried chili peppers and Sichuan peppercorns, garlic and ginger. In Sichuan, Sichuan-style chili peppers such as seven stars peppers are used and may be either fresh green or dried red ones, sometimes both. The most important component of the dish is Sichuan peppercorns. It is these peppercorns that give authentic Kung Pao chicken its distinctive numbing flavor. Then the chicken is stir-fried and vegetables, along with peanuts, are added. Kung Pao chicken starts off with fresh, moist, unroasted peanuts or cashew nuts although cashews are not native to China. Raw peanuts or cashew nuts are dropped into the hot oil on the bottom of the wok first, then deep-fried until golden brown before the other ingredients are added.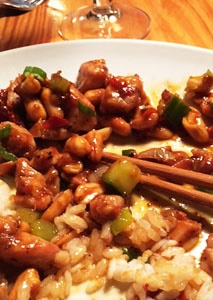 During modern times after Mao and during the Cultural Revolution, the dish's name became politically incorrect because of its association with Ding. In China the dish was renamed Gongbao Jiding or Hongbao Jiding or Gong Bao Ji Ding. In Shanghai today its the latter or Gongbao Jiding on most menus.

Meanwhile in the United States and around the world as Chinese immigrated to other countries along with them came their recipes. Recipes soon morphed into variations of the original because of the lack of some ingredients. In restaurants chefs altered recipes to appeal to western tastes and in some cases the recipe now is nothing like the original. Sichuan Pepper was banned in the US from 1968 to 2005 for fear it could spread a canker to citrus trees. Some say they are a must in this dish to be authentic and I agree!

Just like any recipe there are variations on it that have happened over time either through translation, not having all the ingredients available, or just wanting to tweak it. I know that American Chinese restaurants at some point replaced the cucumber with celery and the white meat with dark meat. The cucumber thing may have been because of availability and probably entered the dish in the 1920's. Celery distribution became mainstream in most US cities around then, it was no longer locally produced and distributed because of refrigerated truck transport. I'm sure the dark meat replacement was because it was less expensive to use and thus Chinese restaurant owners made more money on each dish. Another possible reason was that dark meat is actually moister and to many Chinese they would rather cook and eat it more that white meat. Probably a chef made it for his kitchen meal one day, everyone liked it so they changed the recipe. As word spread other Chinese Restaurants did the same so now you may often have it served this way more often than not.


So where is this recipe from? Well, it's my own and here are the reasons that it's authentic!

1. I've eaten this dish in many excellent Chinese restaurants, in Montreal, New York, Chicago, San Francisco, LA, Boston and other cities. In fact I've eaten it Shanghai China, the long missed Joyce Chen in Cambridge MA, the Shun Lee Palace in NYC and the Mandarin in LA and San Francisco!
2. I have had Chinese chefs, who are from Chengdu, Sichuan Province; tell me how to make it.
3. I'm a professionally trained Chef.
4. I've made the dish many times with great success and have been told that it is better than any Chinese restaurant's version!
5. I take a lot of pride in presenting authentic and consistent recipes

This is how yours should look coming out of the pan!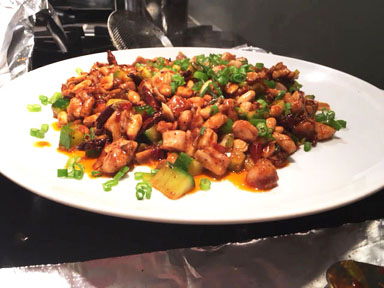 Gong Bao Ji Ding-Gong Bao Chicken-Kung Pao
Serves 2

Ingredients:
3/4 pound boneless and skinless chicken; breasts and thighs in equal amounts, cut into 1/2-inch cubes
4 T roasted peanut oil
3/4 cup raw peanuts
1 tsp. Szechuan peppercorns, crushed
12 each Chinese chilies, split open with the seeds and stem, if any,removed (Very Important to do this!)
2 tsp. garlic, sliced thin
1 T ginger, chopped
1 cup seeded and diced Seedless Cucumber, center seed area removed and diced 1/2-inch cubes
1/2 cup scallions bottoms, white part, chopped
2 T scallion tops, chopped

Marinade for Cubed Chicken:
1 tsp. sugar
1/2 tsp. salt
1/8 tsp. grd. white pepper
4 T Shaoxing wine
1 T cornstarch
1/2 egg white (large egg), beaten to a froth or egg white powder equivalent
2 T roasted peanut oil

Sauce:
1 T Chinese black vinegar
1 T sugar
1 T light soy sauce
2 T broad bean sauce with chili and garlic
1 T ground bean sauce
2 teaspoons sesame oil
2 teaspoons cornstarch dissolved in 1 Tbsp. water

Instructions:
Marinate the chicken: In a medium bowl, stir together the seasonings, rice wine, and cornstarch until the cornstarch is dissolved. Add the chicken and toss to coat. Let stand for at least 1 hour.

Prepare the sauce: In another bowl, combine the vinegar, sugar, soy, bean sauces, cornstarch mixture and sesame oil. Stir to mix and set aside.

Heat a wok or large non-stick Saute pan/skillet over high heat until a bead of water evaporates on contact. Add the peanut oil and swirl to coat. Add the peanuts; stir-fry for about 20 seconds, until they begin to lightly brown and the oil is slightly fragrant, then add the Szechuan peppercorns and deseeded chilies for 10 seconds. Immediately scoop them from the pan to a dish to stop cooking. Add the chicken and stir-fry until no longer pink, constantly moving the meat around in the pan with a wooden spoon, about 2 to 3 minutes. You want the chicken to cook through, be firm to the touch but not to get too brown. Adjust the heat as needed to accomplish this or simple take the pan on and off the heat from time to time---this achieves the same result.

Add the garlic, ginger and scallion bottoms, stir-fry for 5 seconds add cucumbers. Pour in the sauce and mix to coat all the other ingredients, Quickly bring to a boil while stirring and cook for another 30 seconds or so, add the peanuts, chilies and peppercorns back and toss to mix in. There isn't suppose to be a lot of sauce, just enough to coat the chicken and it should also look oily! Transfer to a serving plate, sprinkle on the chopped scallion tops on top, and serve. Don't wait have all your accompaniments ready and eat it hot!

Please know that the crushed Szechuan Peppercorns will be crunchy and almost sand like in the dish, if you haven't cooked with them before you might be surprised. Most ingredients are availalble but the broad bean sauce might be hard to find locally, Amazon has it and it's called broad bean paste! ***I used a 10 inch commercial Wear-Ever® Fry Pan with CeramiGuard® II Interior on a natural gas Wolf Range with 15,000 BTU burners and had no problem doing the cooking quickly. If you don't have the same, then saute/stir-fry the chicken in two batches, and then combine the batches with the sauce, to finish the dish.


Credits:

Impressions of China; http://www.i-china.org---
People's Daily Online; www.people.cn---
Quatr.Us; http://quatr.us/china/food/
http://www.i-china.org/news.asp?type=14&id=1013---
http://travel.cnn.com/shanghai/eat/why-do-chinese-people-hate-kung-pao-chicken-and-foreigners-love-it-415057/ http://themalaproject.com/chengdu-challenge-13-kung-pao-lotus-root-potato-gong-bao-ou-pian/