Hot Sauce---Matouk's Calypso Sauce Clone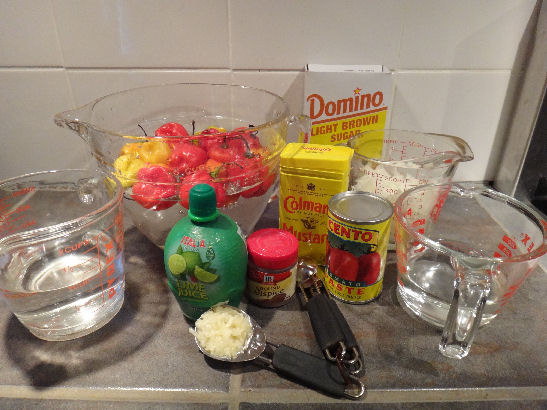 1 cup yellow onion, fine dice
1 tbsp. chopped garlic, fresh peeled
12 scotch bonnet peppers, halved with seeds and stems removed (wear disposable gloves) and do this in a big bowl of water*
1 tbsp. vegetable oil
1 cup distilled vinegar + 1/2 cup water
3 tbsp. tomato paste
1/2 tsp. ground allspice
1 tsp. mustard powder
2 tbsp. lime juice
1 tbsp. light brown sugar
1 tsp. kosher salt...3/4 tsp. if regular salt
additional ingredients listed below---

* An island secret is to put the peppers in a big bowl of water, cut them in half and remove seeds and stems in it. It keeps the peppers tame so the aromatics and juices don't overcome you! Another secret is not to remove all the seeds, keeping 3-4 per pepper so your sauce will be nice and hot! Note*---for this recipe at least 8 of the peppers should be red, 3 orange colored and 1 green, so when they cook down the color is richer red-orange and not pale orange.
In a heavy bottom stainless steel pot, heat the oil over medium heat for about 30 seconds and then add the onions,chopped garlic and Scotch bonnet peppers and cook for about 3-4 minutes but do not brown them...add the vinegar and water and bring to a boil, reduce the heat, cover and cook slowly until soft, 15 minutes or so.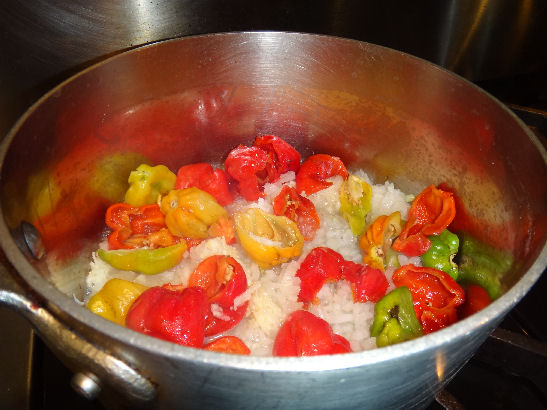 Add the tomato paste, allspice, mustard, lime juice, brown sugar and salt. Bring to simmer and cook 15 minutes. If you like, add cornstarch (as mentioned at the end of the recipe) at this point---just be sure the sauce is still bubbling at a simmer so the starch cooks. Puree with an immersion blender adding a few drops of water to encourage a pourable end result without being too liquid. Be very careful not to splash this sauce on yourself---especially not to get it in your eyes!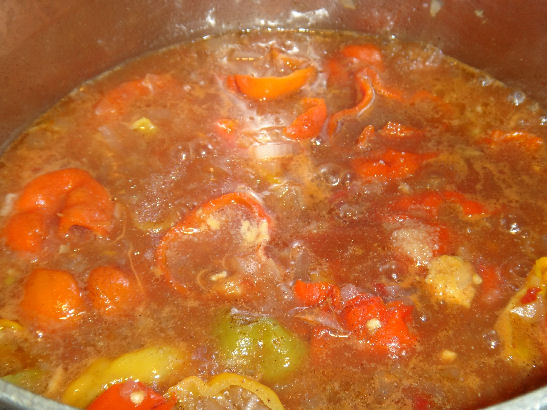 Now to finish the sauce---mix in the following---bring to a boil and immediately add 1 tbsp. of cornstarch mixed with 2 tbsp. cold water stirring with a wire whisk to prevent lumps---return to a boil---turn it off and let it cool with a cover on it, set ajar.
1 cup distilled vinegar + 2 tsp. sour salt (citric acid) + 2 tbsp. lime juice + 1 tsp. kosher salt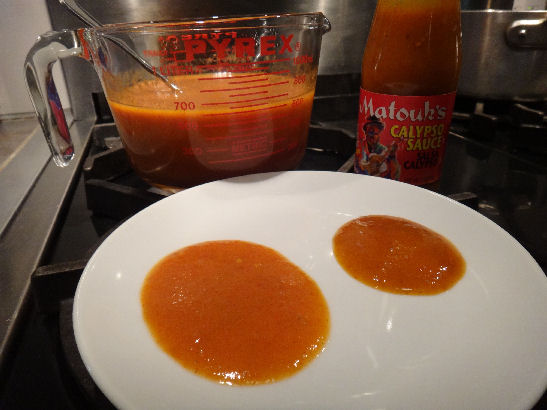 The color, tang, taste and hot, hot, hotness of Matouk's Calypso Sauce is an exact match!
BBQ---Heinz Clone

1/4 cup corn oil
32 oz Heinz Ketchup
16 oz water
1 cup red wine vinegar
1/2 lb dark brown sugar
1/4 cup dark chili powder, McCormick brand
1 T Lea & Perrins Worcestershire Sauce
1 T garlic, chopped fine
1 T soy
14 oz crushed tomatoes, Hunt's/Red Pack/Muir Glen (1/2 of a 28 oz. can)
1 tsp Tabasco sauce
1/4 tsp. cayenne pepper
2 tsp. Kosher salt or 1 tsp. regular salt

In a heavy bottom pot, bring all ingredients to a simmer and cook 30 minutes---stir every 3-4 minutes to prevent scorching and sticking. That's it---done and enjoy!

Pick Sauce---Pickapeppa Clone

1 cup distilled vinegar
1/2 cup water
1/2 cup sugar
1/2 onions, chopped fine
2 peppers, Jamaican Hot Yellow or Scotch Bonnet Pepper, seeds removed and chopped fine
1/4 cup, garlic, fresh peeled and chopped
3 Tbsp. tomato paste
1 cup mangoes, chopped fine
3/4 cup regular dark raisins
1/4 cup fresh ginger, chopped fine or grated
2 whole cloves, crushed
1 Tbsp. black pepper
1 Tbsp. kosher salt or 2 tsp. if regular salt
1 tsp. fresh thyme leaves
1 Tbsp. Orange peel pieces, white pith removed---just the skin, compacted in a tablespoon to measure

In a stainless steel pot, combine vinegar, water, sugar, onions, peppers and garlic and bring to a slow boil, reduce the heat and simmer for 10 minutes, turn off the heat and let sit 10 more minutes.

Add tomato paste, mangos, raisins, ginger, cloves, salt, black pepper, thyme and orange peel. Over low heat bring all to a simmer and cook 20 minutes so you see it cooking. Take off the heat and cool, remove the 2 cloves and puree with an immersion blender or in a food proccessor or regular blender so there are no lumps. If needed, add teaspoons of water so the sauce is pourable like a heavy cream.

All will keep refrigerated for 2-3 months but I doubt that they will last that long!

Here's a simple and delicious marinade. It's great for marinating Chicken or Pork and firm flesh fish like Mahi Mahi!

1/2 cup grated onion
1 tsp chopped garlic
1 tsp kosher salt...3/4 tsp if regular salt
1 tsp ground black pepper
1 tsp chili powder
1 tsp. Oregano
3 tbsp tomato paste
3 tbsp vegetable oil

Mix all together and pour over what you will be grilling, let marinate at least 2 hours. Just before grilling wipe off most of the solids, then dip a brush back in to absorb the oil and brush it back on the chicken, pork or fish just before placing it on the grill.