What's the difference; Meat Sauce, Spaghetti Sauce, Bolognese Sauce or Ragu Bolognese? I bet there are ten thousand recipes or more on the web alone and another ten thousand written in cookbooks! Who is to say that anyone of them is correctly prepared using exacting standards?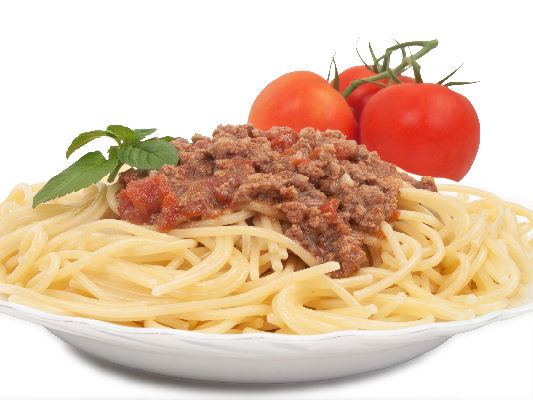 It just happens that this "type of sauce" has been made in the Piedmont region of Italy for centuries, no this isn't a Sicilian sauce! The Piedmont is the heart of farm country in Italy and produces very fine beef indeed. The sauce made in and around Bologna was spread to wherever people from that area emigrated. It was a peasant dish made with onions, garlic, mushrooms, chopped salt pork, chopped beef, chopped pork, chicken livers, red wine, tomatoes, water and some milk to neutralize the acidity of the tomatoes. The finished "Stew" was served with noodles. There were variations like in all recipes, don't have mushrooms but you have celery...you substitute. No chicken livers, then you leave them out. No milk...leave it out and replace it with a pinch of sugar to neutralize the acidity. So you want the sauce to be more tomatoey based...you guessed it...add more tomatoes and with all recipes, season to taste.

Bologna is the largest city of the Emilia-Romagna region in Italy. Located in the Po Valley it has a rich agricultural history. Major battles during WWII were fought there. Emilia-Romagna is a region south of Venice and Verona in the Veneto and stretched across Italy from the Adriatic coast to almost the coast of the Ligurian Sea near Genoa in the region of Liguria. It's north of Florence and San Marino in Tuscany, and south of the region of Lombardy. Bologna is the industrial hub and rail center of the region. Another well know province and city to its northwest is Parma, the home of the world famous Prosciutto de Parma and Parmigiano-Reggiano.

Many Italians from this area have immigrated to the United States over the years and brought this recipe as well as others. I'm sure it went unnoticed in culinary circles for years; after all it was peasant food, although a peasant food that tasted pretty darn good. Its popularity grew; it was cheap to make and whatever pasta it was served with filled you up. From home kitchens it spread to restaurants and even morphed into "Sloppy Joe Sauce" and the base ingredient for "American Chop Suey". Today it is a main ingredient in lasagna and you might consider it to be the base for chili con carne with the addition of chili power.

I've seen many variations and have made variations myself. The addition of red bell peppers, although not "authentic", make the sauce quite tasty. Long green Italian peppers, the Cubanelle type, make for a nice addition too! When it comes to herbs and spices, there are many schools of thought. Oregano is probably the most popular, followed by basil and thyme, a combination of all or not. Rosemary has found its way into the dish too. A famous San Francisco Italian Restaurant of the past, "Papa Rossi" added a bit of allspice and I've seen it in cookbooks in Italy. A pinch of cinnamon is found in some Italian cookbooks as well.

An interesting note is that America soldiers who fought in Italy during WWII may have contributed to the Americanization of the dish, bringing the concept of making it back home with them. In doing so it became a popular American family meal in the late 40's until now. The big difference was the spaghetti that it was and is served with. In Italy it is served with noodle or flat pasta like pappardelle, tagliatelle or fettuccini and never rigatoni, shells or spaghetti. Italians don't only eat spaghetti like some Americans think! However spaghetti came into play, it worked with the sauce.

Today there is a resurgence of this dish in restaurants. Chefs are trying to outdo one another by adding non traditional ingredients and jazzing up the dish, serving it with many things. I've seen the beef and pork replaced with venison, buffalo, wild boar, duck, turkey, squab, alligator and even reindeer. When it comes to other ingredients, things like yellow tomatoes, scallions, shiitake mushrooms, saffron, brandy, bourbon, fennel and even Ricotta Salata have been added as some chefs try to be creative.

I say oh no! What's wrong with a classic preparation minus the chicken livers and milk for me and with the addition of extra virgin olive oil, a pinch of oregano and a pinch of sugar.

Here are 5 recipes for the sauce for you to try and then you can make up your mind about the one you like the best.
The Classic Bolognese Ragu according the Accademia Italiana della Cucina


Picture from itchefs GVC website
With a solemn decree of the Accademia Italiana della Cucina, the Italian Academy of Cuisine, the present was notarized and deposited in the Palazzo della Mercanzia, the Chamber of Commerce of the City of Bologna on the 17th of October 1982.

Ingredients
300 gr. beef cartella (thin skirt)
150 gr. pancetta, dried
50 gr. carrot
50 gr. celery stalk
50 gr. onion
5 spoons tomato sauce or 20 gr. triple tomato extract
1 cup whole milk
Half cup white or red wine, dry and not frizzante
Salt and pepper, to taste.

Procedure:
The pancetta, cut into little cubes and chopped with a mezzaluna chopping knife, is melted in a saucepan; the vegetables, once again well chopped with the mezzaluna, are then added and everything is left to stew softly. Next the ground beef is added and is left on the stovetop, while being stirred constantly, until it sputters. The wine and the tomato cut with a little broth are added and everything left to simmer for around two hours, adding little by little the milk and adjusting the salt and black pepper. Optional but advisable is the addition of the panna di cottura, a litre of whole milk at the end of the cooking.

In Italy, there is the decree of the Accademia Italiana della Cucina as to what a Classic Ragu Bolognese is and how it is cooked. Yet there are hundreds of individual interpretations of Tagliatelle al ragu alla Bolognese, with more or less slight variations and (far too many of it)---ah those chefs like to tinker with recipes and put their own twist on things!
Now let's look at two versions from Italians who represent good cooking in Italy. They both hold to tradition and don't want to alter recipes too much as is the craze with chefs these days. It seems like every chef was to put their own spin on things. I guess I did too at one time, but if you are talking about a "classic" recipe---leave it as close to what it is meant to be so your customers can enjoy it as its creator meant it to be.

Rag alla Bolognese by the Simili Sisters


picture from itchefs GVC website
Margherita and Valeria Simili are the daughters of a famous Bologna baker, the sisters learned to roll pasta and knead bread as young girls. Italian cookbook author Marcella Hazan met the Similis in the 1970s, and helped them open a cooking school in 1989. The sisters closed their school to retire but now in their 80's they are still doing things like writing cookbooks. They are thought of as really good cooks who hold traditional values of authentic Italian cooking. Margherita and Valeria Simili went to work for their father, Armando, who owned one of the city's best bakeries. By watching their mother in the big kitchen at home in Bologna, they learned to make pasta and bread from an early age.

Marcella Hazan was a great Italian chef and cookbook author, she died recently at the age of eighty-nine. Any serious "Italian" forward thinking chef has a collection of her cookbooks! Marcella her husband and Margherita and Valeria Simili became good friends and admired each others cooking skills. Encouraged by Hazan, in 1986 the sisters opened their own cooking school on the same street on which their father's bakery had once thrived, it closed 2001.

Tagliatelle with Ragu Bolognese Sauce, Tagliatelle al Ragu alla Bolognese by Mario Caramella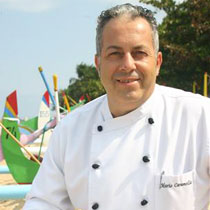 Picture from itchefs GVC website
Mario says that his recipe has been tailored mainly for all those non Italian chefs who aim to serve this traditional Italian dish in a correct and professional way. The recipe however may be useful also to the many Italian chefs in Italy, as well as abroad, who are just as confused about it. He hopes that it will give you a clear direction and help you achieve a good result.

An American Chef's interpretation of the sauce might be like the following recipe. This style would be found in many American-Italian restaurants in the USA.

1 1/2 pounds 90% lean ground beef
2 tablespoons olive oil
2 cups yellow onion, small dice
1 1/2 cups carrots, peeled and small dice
1 cup celery, small dice
3 tablespoons garlic, minced
4 ounces (1 small can) tomato paste
12 ounce beef stock
2 teaspoons oregano
2 teaspoons kosher salt
1 teaspoon freshly cracked black pepper
1 cup milk

Instructions:

Heat large sauté pan or Dutch oven over medium-high heat; add oil to coat pan. Cook onion, carrot and celery until onions start to become transparent, 3-5 minutes. Add garlic, bacon and ground beef; break up and cook until no pink remains.

Add tomato paste, stock, Italian seasoning, salt and pepper. Reduce heat to low, simmering for 1 hour uncovered, stirring occasionally.

Heat the milk in separate saucepan, over medium heat, until hot to the touch without boiling, 2-3 minutes. Stir milk into sauce about a 1/4 cup at a time until absorbed. Simmer, nearly covered, for 30 minutes.

Cook pasta according to package directions and drain. Combine pasta with half of the Bolognese sauce and parsley; then plate, topping with remaining sauce, parsley and grated cheese to taste.

goodcooking.com likes this recipe---

Bolognese Sauce

2 tbsp. olive oil
2 tbsp. prosciutto, chopped
1 cup onions, minced
2 tsp. garlic, minced
1/2 cup carrots, shredded fine
1 lb. ground beef
1 lb. ground pork
1 cup Valpolicella (red wine from Italy) or Merlot
1 tsp. oregano
1/2 tsp. black pepper, fresh ground
1 tbsp. salt
1 tbsp. sugar
2 dashes ground allspice
1 can crushed Italian San Marzano tomatoes, 28 ounces, crushed and broken into small pieces by hand
4 ounces tomato paste
1/4 cup water
2 tablespoons parsley, chopped

Notice that there is no milk or cream in this recipe! But if you like, you can add 3/4 cup heavy cream.

Instructions:

Heat large sauté pan or heavy bottom pot over medium-high heat; add oil to coat pan then the prosciutto and brown lightly. Then add the onion, carrots and celery, cook until they start to become transparent, 3-5 minutes. Add garlic, ground pork and ground beef; break up and cook until no pink remains. Add the red wine and cook 3 minutes

Add oregano, black pepper, salt, sugar and allspice, and then the San Marzano tomatoes and tomato paste. Bring to a boil and then reduce heat to low, simmering for 1 hour and 15 minutes slightly covered, stirring occasionally and adding 1/4 cup water along the way. The sauce should coat the back of a spoon and not be too watery.

Cook tagliatelle or egg dough fettuccine nests according to package directions and drain. Combine pasta with a quarter of the Bolognese sauce and parsley. Serve in a large bowl family style with Parmesano Reggiano grated over the top and more to the side.

Mary Ann Esposito is the creator and host of the public television series Ciao Italia celebrating 25 years as the longest running cooking series in television history. She is pictured here on the cover of her new cookbook, Ciao Italia Family Classics
Ciao Italia's Ragu Bolognese
This recipe is featured on Season 25 - Episode 2504

1/4 pound pancetta
1 small red onion
1 medium carrot
1 rib celery
2 tablespoons EVOO
1/2 pound skirt steak or chuck blade steak, coarsely ground
1/2 pound boneless veal shoulder, coarsely ground
1/2 pound boneless pork loin, coarsely ground
1/2 to 1 teaspoon sea salt
1/4 teaspoon ground black pepper
pinch ground nutmeg (optional)
1 tablespoon tomato paste
1/2 cup dry red wine
1/2 cup milk or cream

She says, "to mince the pancetta, onion, carrot, and celery together and to set them aside,
and then to heat the olive oil in a heavy duty Dutch-oven-type pot. To cook the pancetta and minced vegetable mixture over low heat uncovered for 30 minutes, as you stir occasionally. To stir in the ground meats, salt, pepper, and nutmeg and brown everything completely. And last to stir the tomato paste and wine together wine before adding it to the meat mixture. Simmer the ingredients uncovered for 45 minutes, adding the milk or cream a little at a time to keep the mixture from sticking while it cooks. "

You can see that in her recipe, there is VERY little tomato product, so it appears to me that after cooking it will be more or a brownish-red color and not much of a liquid type sauce.

Mama Leone's Restaurant


NY Times
About New York; Mamma Leone's: Spicy Tales Of Sweet Success
By DOUGLAS MARTIN
Published: September 19, 1987

Mamma Leone's Ristorante 1906-1994, had 11 dining rooms, 1,250 seats and 240 employees.

Enrico Caruso talked Luisa Leone into opening Mama's in 1906 with 20 chairs in the family's living room on West 34th Street. As the years went on it became the place to go, and they did, Leone's served almost 700,000 meals a year. Colorful celebrities such as W. C. Fields and politicians loved the place! In 1960 Elizabeth Taylor, was denied entrance to a dining room because she was wearing slacks. President Harry S. Truman, President Eisenhower gave Gene Leone, who succeeded his mother as the boss, wrote the forward in the Mama Leone's cookbook! Liberace often played the piano before settling in for a meal. Joe Namath celebrated there after winning Super Bowl III and Mayor Koch fancied the homemade pasta. A colorful history ended after Restaurant Associates acquired the business and the cost of running it became too expensive. It closed in 1994

Mamma Leone Shuts Doors in Manhattan - NYTimes.com
Mama Leone's Bolognese Sauce

1/4 cup olive oil
1/4 cup fresh creamery butter
2 ounces salt pork, diced
1/4 pound onions, peeled and diced
1/2 pound Italian sweet sausage
1/2 pound lean beef, ground
4 chicken livers, chopped fine
2 garlic cloves, mashed
1/2 teaspoon fresh rosemary
1 bay leaf
1/4 teaspoon ground black pepper
6 tablespoons dry white wine
2 cup canned peeled plum tomatoes, sieved
2 medium-sized ripe tomatoes, chopped fine
pinch of ground allspice
1 cup boiling water

Cut the beef into small cubes. Remove sausage casing and cut the sausage into small pieces. Chop the garlic and rosemary together. Combine butter, olive oil and salt pork in a skillet; heat. Add onions and sauté slowly until medium brown. Add beef and sausage, allspice, salt and pepper. Brown for 15 minutes. Add garlic and rosemary, stir, and cook for 2 minutes. Add tomatoes and boiling water, stir, cover, and cook slowly for 45 minutes. Uncover and cook for 5 minutes more. Test for doneness. When meat is tender, remove sauce from heat.

Makes about 4 cups