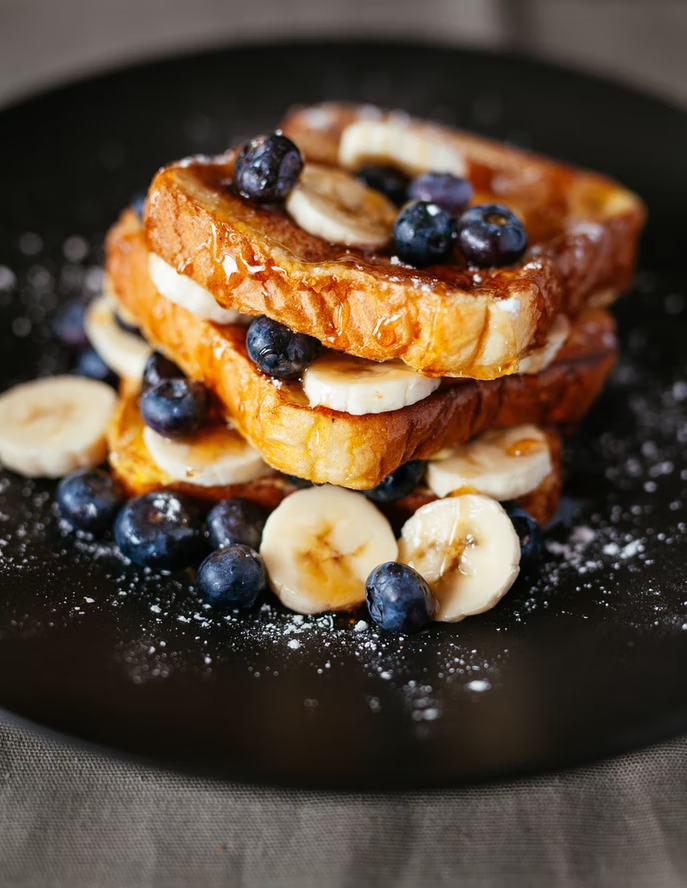 Baked French Toast
prep the day before, bake early in the morning and enjoy...
fall and cooler weather is coming...this version of French toast with warm blueberry sauce will be great for breakfast or brunch
Frozen wild Maine blueberries are perfect for the sauce!
recipe:
Baked French Toast Pudding:
8 portions
Amount/Measure/Ingredient
1 lb loaf of white bread; brands like Arnold, Pepperidge Farms or homemade, with the crusts removed
2 packages (8 ounces each) cream cheese
1 cup fresh or frozen blueberries
10 large eggs, beaten
2 cups milk
1/2 cup maple syrup
Blueberry Sauce:
Amount/Measure/Ingredient
1 cup sugar
2 tablespoons cornstarch
1 cup water
1 cup fresh or frozen blueberries
1 tablespoon butter
2 bananas sliced
maple syrup
Cut bread into 1-in. cubes; place half in a greased 13x9-in. baking dish. Cut cream cheese into 1-in. cubes; place over bread. Top with blueberries and remaining bread cubes.
Whisk the eggs, milk and syrup very well in a large bowl. Pour through a strainer and over the bread mixture. Cover and refrigerate for 8 hours or overnight.
Remove from the refrigerator 30 minutes before baking. Cover and bake at 350° for 30 minutes. Uncover; bake 25-30 minutes longer or until a knife inserted in center comes out clean.
Combine the sugar, water and cornstarch until smooth in a small saucepan. Bring to a boil over medium heat; cook and stir until thickened, 3 minutes. Stir in blueberries; bring to a boil. Reduce heat and simmer until berries burst, 8-10 minutes. Remove from heat; stir in butter.
Serve spoonfulls of baked French toast topped with warm blueberry sauce, sliced bananas, maple syrup and whipped cream or even vanilla ice cream!