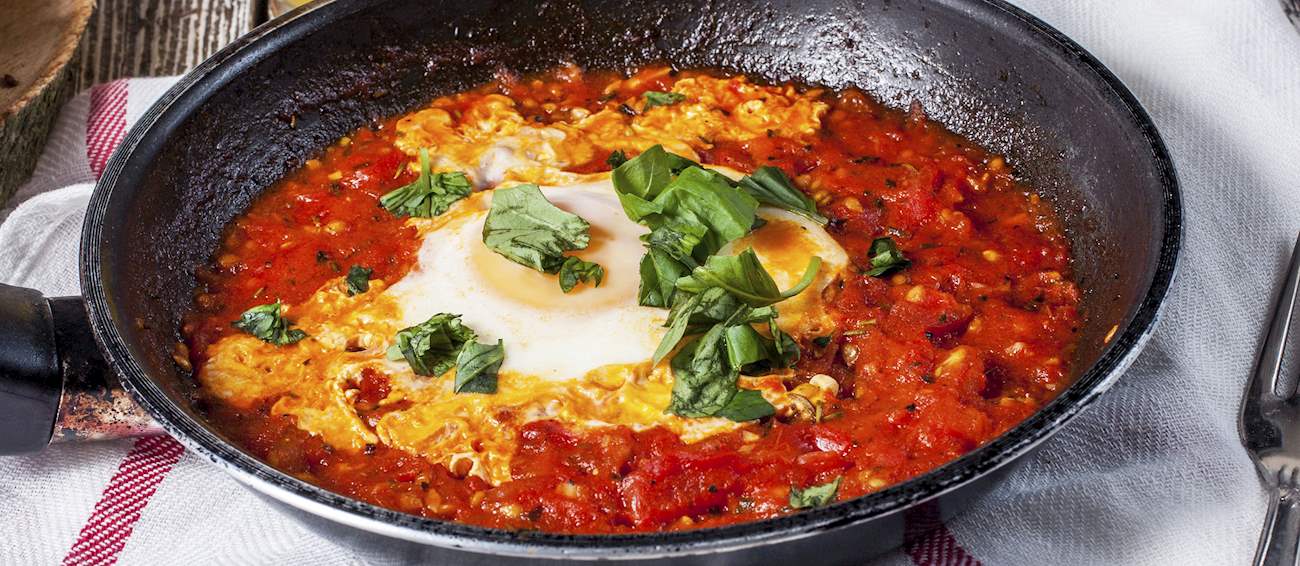 Shakshouka
The Shakshouka disk is popular across North Africa and through the Middle East. The above picture comes from tasteatlas.com as it is prepared in Egypt.
The picture here is from visitsaudi.com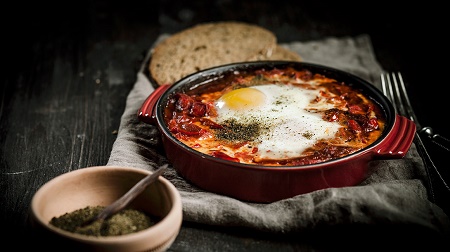 recipe: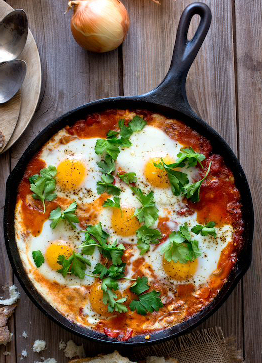 Ingredients

1/4 cup olive oil
1 cup onion , diced
1 tbsp garlic cloves, finely chopped
1 cup red bell pepper, seeded and diced
1 28-ounce can whole peeled tomatoes
1 teaspoon cumin
2 teaspoons paprika
1 teaspoon allepo chili powder
1 teaspoon salt
½ teaspoon sugar
½ teaspoon black pepper
6 large eggs
¼ cup chopped fresh cilantro
¼ cup chopped fresh parsley
pita
feta or goat crumbled cheese

Instructions
1. Heat a large saute pan (10 or 12 inches) over medium heat.
2. Add the olive oil and as soon as it sizzles, add diced onions and garlic saute for about 1-2 minutes until fragrant...try not to overly brown.
3. Add red bell pepper and continue cooking slowly for about 8-10 minutes, stir occasionally, until onion and bell pepper mixture is soft and slightly carmelized. Do not let it burn.
4. Add whole tomatoes together with all the juice and crush to a chunky texture, add all the spices - cumin, paprika, and chili pepper seasoning with with salt, sugar and pepper
5. Bring to a boil, reduce heat to low and continue cooking stirring for about 6 minutes.
6. Crack one egg at a time in a small bowls and then form a small wells with the back of a spoon or spatula in the tomato mixture.
7. Gently drop the eggs into the wells. Repeat the same process with all the remaining eggs (crack eggs, make a well and add whole eggs all before hand).
8. Simmer over medium heat for about 6-8 or more minutes or until you have reached the desired doneness. (Place cover on the pan to set the tops of the eggs)
9. Serve immediately with cilantro and a drizzle of olive oil!

You can make individual pans of 1 egg each in 7 inch pans and serve them in the pan as the plate itself.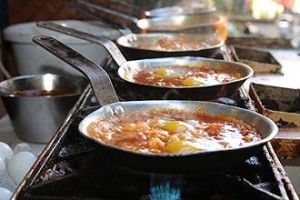 restaurants in Israel prepare and serve 100's of dishes a day as this image from igoogleisrael.com shows
Cafe Landwer an Israeli restraunt chain has now come to the USA and serves a very nice version of Shasksuka!