Benihana is an American restaurant company that was founded by Hiroaki (Rocky) Aoki in New York City in 1964, and was the creator, or that is what's believed, of Yum Yum sauce.
This sauce has become very popular and many versions exist as bottled sauces that you can find in markets and online.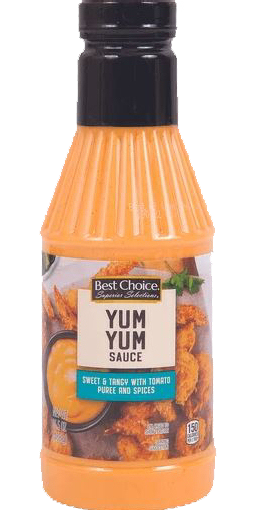 My take about the creation of Yum Yum sauce...
In kitchen testing, a sauce was needed for his Teppenyaki dishes. One point was clear, he wasn't trying to please the Japanese diner but rather American taste buds and with that in mind they must have experimented. I wasn't there of course, but being a chef and culinary teacher for many years, and having seen chefs experiment, I feel Yum Yum probably happened this way: His chef probably said, "Mizutaki Sauce would be perfect!" Maybe Rocky replied: "Make it so Americans like it---what's a sauce Americans like?" They all said "ketchup" so they added it and Yum Yum was born?! Yes, it was probably adjusted a bit more before they had a final recipe. In the classic Japanese Mizutaki recipe, beef broth is an ingredient. In recipe testing it was elimintated. Instead of making mayonnaise from eggs, oil and vinegar as they first did making it from scratch, they used commercially made, also paprika was added for color. Ketchup adjusted the taste and a little zip was needed so they added white pepper and some ginger juice. I'd bet anything they added a few drops of Worcestershire too. Of course this can't be confirmed because Rocky died in 2008, this is just my opinion. I tried to reach out to Benihana about its origins but never heard back from them.
Today instead of each restaurant making it, it's more than likely they make it in a company commisary and then ship quanities to individual restaurants.
So you can make a comparision, here is the authentic recipe for Japanese Mizutaki Sauce like it is made in Japan---from the "Japanese Country Cookbook, " by Russ Rudsinski
Creamy Mizutaki Sauce
2 eggs
2 T rice wine vinegar
2 cups vegetable oil
1/2 cup sour cream
4 T shoyu...shoyu is Japanese style soy sauce that's made from fermented soybeans, wheat, salt and water and is lighter in color than regular well known brands of soy sauce
4 T Mirim
2 T beef broth
Combine eggs, vinegar, 1/2 cup oil in blender until creamy. Slowly add the remainder of oil in blender on high speed until it
forms
a mayonaise. In a bowl, mix the other ingredients.
There are literally hundreds of recipes for the sauce online. I even saw one with maple syrup! No one recipe translates to the quantity that the restaurant probably originally made and certainly they didn't make it every day. Also I'd bet that Benihana used fresh garlic and onions in their concoction and in general the recipe was probably like this
and was easy for a cook to follow
---
Probably a close to original YumYum recipe---

amount/measure/ingredient
4 gallons extra heavy mayonnaise
1 #10 can of ketchup
1 500 ml of seasoned rice wine vinegar
1 250 ml Mirim wine
1 cup of sushi ginger juice
100 ml Worcestershire Sauce
1/2 cup paprika
2 tbsp. ground white pepper
400 gr. sugar
1/2 cup salt
1 tsp. cayenne
2 quarts of sour cream
2 lbs.butter melted
2 tbsp. mashed fresh cloves of garlic
1 cup pureed red onion
All was probably put into a 32 quart stainless steel pot and then emulsified with a Robot Coupe immersion blender for mixing, and then transferred to smaller containers for storage. More than likely that was only a week's supply.
Like many recipes, there are tweaks chefs put on them. Here is my good guess of a home quantity of the original sauce:


home quanity made as a test batch---Yum Yum Sauce
amount/measure/ingredient
1 tbsp. seasoned rice wine vinegar
1 tbsp. pickled ginger (sushi ginger) juice
1 tbsp. Mirim wine
¼ teaspoon fresh finely minced garlic, mashed to a paste
1 tbsp. grated red onion
2 tbsp. butter, melted
1 cup Hellman's mayonnaise---or other thick style
1/2 cup sour cream
1/2 tsp. Worcestershire Sauce
1 tbsp. Heinz ketchup---its flavor profile is the important factor for using this brand
1 teaspoon sugar
1/2 teaspoon salt
½ teaspoon Spanish paprika
1/8 teaspoon ground white pepper
pinch of cayene pepper
Directions:
Combine all ingredients together in a bowl, blend until everything is thoroughly mixed and smooth.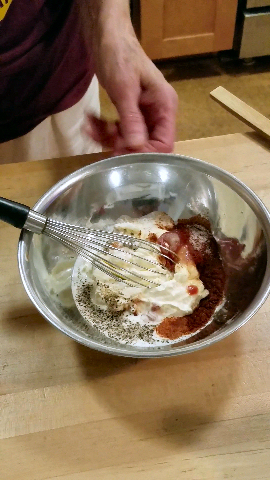 After adding the melted butter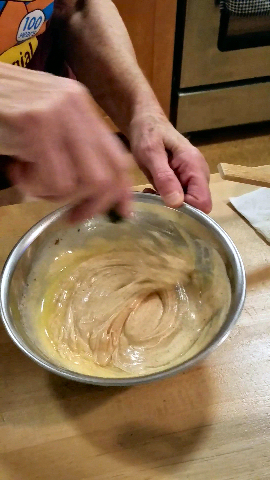 Transfer Yum Yum sauce to a container, then refrigerate for a few hours. As the butter chills, the sauce will thicken slightly, so stir it up before using.
OK ready to try.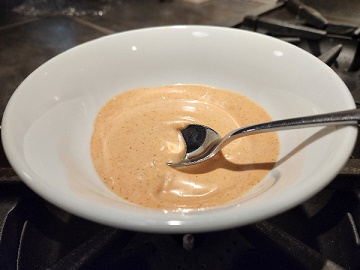 One day later we tried it with thin strips of hibachi beef, volcano onions, seared shimp, tuna and chicken. Yum, it tasted just right. I wonder though if the sauce is still made this way? Is garlic and onion power now used, what about vinegar powder instead of the liquid, a specific brand of ketchup may have been replaced with a house made one and sour cream may be powdered to help stablize creaminess. Unless there is insider information we may never know as Benihana recipes are more than likely not given out. We will just never know!
A common Internet recipe on Pinterest