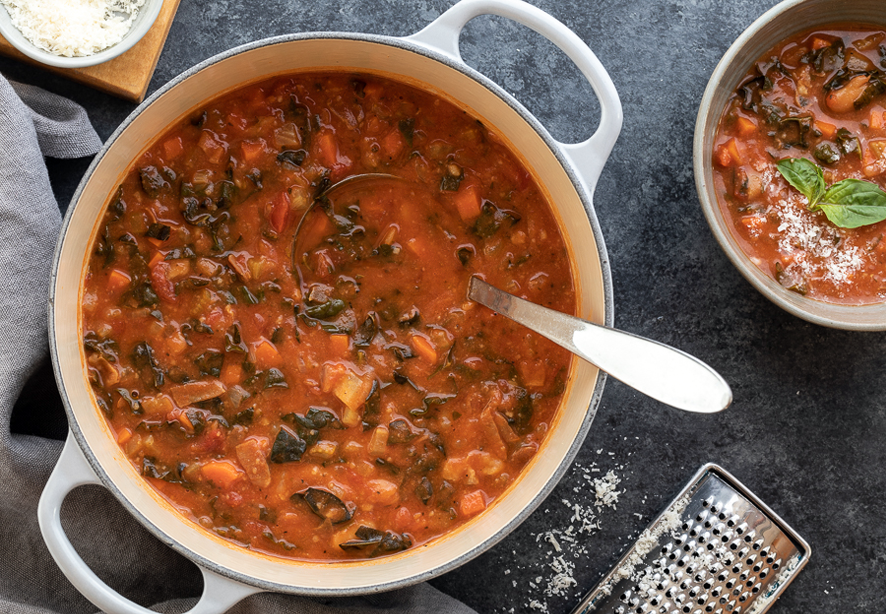 Ribollita, Tuscan Vegetable Soup
There are hundreds if not thousands of variations/recipes of this soup as there are Tuscan grandmothers. What's in your pantry, garden or in the market decided what went into the soup. One thing for sure, lots of vegetables, canellini beans, tomatoes and bread---mangia! It may also be called minestra di pane!
Convert the recipe


Works in most Browsers
more info:
Yield: 8-10 servings
(wash the vegetable prior to cutting to remove unwanted debris)
1 bunch Tuscan kale, cut into 2-inch ribbons---large stems removed first
1 head small savoy cabbage, cut into 2-inch ribbons
1 bunch Swiss chard, cut into 2-inch ribbons---large stems removed first
2 russet potatoes, 3x5 inches, peeled and diced
3 large carrots, 1x9 inches, peeled and diced
2 cups canned whole peeled tomatoes
2 zucchini, 1x8 inches, diced
1 large rib celery, diced
2 leeks 1x5 inches (white parts only), sliced
2 tbsp. fresh peeled garlic, sliced thin
2 cups cooked cannellini beans, half mashed but still chunky
4 tablespoons extra virgin olive oil, plus more for finishing
½ teaspoon crushed red pepper flakes---no seeds
1 bay leaf
1 tsp. fresh thyme leaves
salt, to taste---start with 1 tbsp. Kosher salt
1 to 2 cups (2-inch) cubes stale crusty bread
Procedure:
Place the olive oil, leeks, carrots, celery and garlic in a large pot over medium-low heat. Saute until the vegetables have softened but not browned, about 8-10 minutes. At this point, add the kale, cabbage, and chard, and cook stirring, until the greens are wilted soft, about 8 minutes. Stir in the red pepper flakes with no seeds.
Add the tomatoes and their juice, squeezing the tomatoes between your fingers to break them up. Add 2 quarts of water, the bay leaf, the thyme, zucchini, potaoes and all of the beans. Season to taste with salt and white pepper.
Bring to a boil, and then reduce the heat to a simmer. Add water as needed to thin during cooking---don't worry it won't dilute the flavor. Cook until the vegetables are tender, about 40 minutes. Remove and discard the bay leaf.
Add the bread cubes to the soup, and simmer until the bread is breaking apart and the soup is thick, about 10 minutes. Turn off the heat and let the soup rest. Prior to serving reheat and then ladle into warmed bowls. Drizzle a generous amount of extra virgin olive oil and freshly grated Parmigiano-Reggiano over each portion before serving.