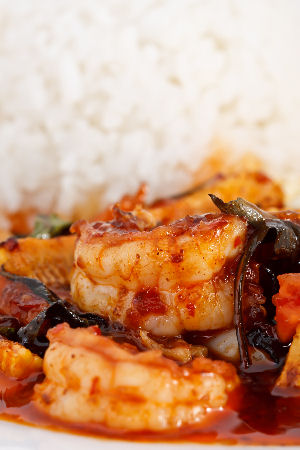 Thai Red Prawn Curry
Prawn Curry, Kaeng Ped or Gangkwwa Gung in Thai, has a luscious, thick, rich and creamy taste and the color of the sauce and ingredients is very appealing!
Convert the recipe


Works in most Browsers
more info:
Prawn Curry, Kaeng Ped or Gangkwwa Gung in Thai, has a luscious, thick, rich and creamy taste and the color of the sauce and ingredients is very appealing! The flavors of Southeast Asian cooking are amazing, mix them with the flavors of an Indian Curry and they reach new heights! What happened, how did these flavors merge and why do we see red and green curry in cooking from Indonesia, Thailand and other areas? And yet in India, it is still mostly yellow? The truth is that curry spread due to wars. The conquest of India during the 12th and 13th centuries exposed the invaders to Indian cooking, particularly the flavor of curry. Simply put, they ate what they could and what was available. So after a hundred years or more of this style of cooking, it became their style too. As they moved into Indonesia, they brought it with them, thus introducing curry flavors across the total area. Then, after another one hundred years, native food ingredients from Indonesia, were blended with the curry flavors of the invaders. And then, during another one hundred years, this time simply by people traveling, these ingredients migrated to other areas in the region, influencing other nation's styles of cooking. Because of limited methods of travel, it didn't reach some countries until centuries later. Similarly, curry traveled to the Caribbean due to deteriorating socioeconomic conditions in India under British rule, more than 30,000 Indians came to Jamaica as unskilled laborers between mid 1800's and the early 1900's. I think of the dish called Roti, the classic Jamaican curried stew that wrapped in Chapati (Flat Indian Bread) as a classic example of the Indians influence on the native cuisine of Jamaica. Now that you know a bit of the how and why, we can talk food and about a recipe that blends Thai flavors of lime, coconut, fish sauce with hot chilies and curry.
2 tbsp. oil---Thai cooks mostly use coconut and palm oil because they don't burn or smoke over high heat. Sometimes peanut oil and or a blend of all three can be used. 1 tbsp. garlic, chopped fine 2 tbsp. red curry paste, make you own or store bought, McCormick "Thai Kitchen" brand is good 1 cup coconut milk 2 tbsp. fish sauce 2 tsp. light brown sugar 12 jumbo shrimp, peeled, deveined, with tail shell still on---for size look for U-15, which means there are under 15 shrimp in a pound 2 fresh Kiffer lime leaves, cut in half lengthwise, they are around 1 inch x ¾ inch 1 fresh small red chili about 1 ½ in long, seeds removed and finely sliced lengthwise 10 Thai basil leaves, about 1 ½ inches long x 1 inch wide In a wok or frying pan, heat the oil, add the garlic and fry until golden brown. Add the curry paste, stir with the garlic and cook briefly. Stirring briskly after each addition, add half of the coconut milk, the fish sauce and sugar. The mixture will thicken slightly. Add the prawns and cook until they start to become opaque. Add the remaining half of the coconut milk, the lime leaves and thin sliced chili. Continue to cook, turning the shrimp until they are cooked through and are firm. Remove the shrimp from the sauce to a serving dish with a slotted spoon or tongs. Add the basil to the sauce, stir, pour over the prawns and serve. A simply stir-fried baby Bok Choy and steamed white rice is a great accompaniment.

McCormick "Thai Kitchen" Red Curry Paste