Pizza
Recipe by: Chef John V., A Good Cooking Recipe!
Serving size: 3 individual 10 inch round pizzas
Preparation time: about 2 hours 30 minutes for dough

Here are some helpful hints on how to make pizza at home that will rival the pizza of Naples, Italy and the great Italian-American pizzas in the USA.
First step: the dough---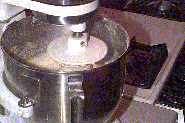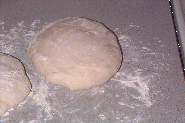 Amount/Measure/Ingredient:

1/2 cup milk
1 1/4 cup water
1 tablespoon salt
2 tablespoon olive oil
2 teaspoons sugar
2 tablespoons yeast
4 1/4 cups bread flour

Preparation:

Combine the milk, water, salt and sugar in a mixing bowl and heat to 110 degrees F. Add the yeast, stir well and let sit 20 minutes to develop. Add the oil and flour and mix for 8 minutes on medium low speed in a mixer. After mixing, cover with a damp towel or plastic wrap and proof once, letting it double in bulk before knocking it down. Divide dough in two and then---

Second step: the shaping---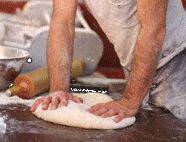 After the dough has proofed twice, turn it out onto a floured surface. Divide the dough into 3 equal portions of about 11 ounces each. Form into rounds, let them rest 10 minutes, then form into round pizza shapes. You then may place the dough on a baking pan or a wooden baker's peel used to transfer the dough on to an oven baking brick. Note* The dough will be slightly sticky, don't add extra flour, this is the way it should be.

Third step: toppings---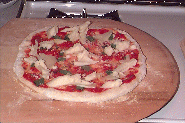 and baking---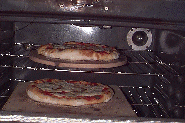 Preheat your oven to 500 degrees F.

The classic pizza in Italy is the Margherita. It consists of crushed canned San Marzano tomatoes, fresh chopped basil, mozzarella cheese and virgin olive oil. It is then baked at a very high temperature in a wood burning oven for about 8 minutes or until it is puffed up and golden brown. You may top your pizza with anything you like, just be sure you don't alter the dough recipe and that you bake it at 500 degrees F in a pre-heated oven. It should bake for about 8 minutes or until puffy and light golden brown in color. Serve it immediately

Fourth step: done---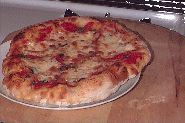 Cut the pizza into 8 pieces using a pizza cutter and enjoy.

Fifth step: eating-- & the crust---