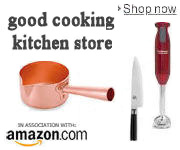 Convert the recipe

to another language.
Almond Crescent Cookies
Recipe by: Chef John V., A Good Cooking Recipe!
Serving size: about 56 cookies
Preparation time: about 1 hour total

Amount/Measure/Ingredient:

1 1/2 cups ground almonds, aka. almond flour
1/2 lb. unsalted butter
1 tsp. pure vanilla extract
2 tsp. pure almond extract
2/3 cup granulated sugar
2 1/2 cups sifted all purpose flour, sift first then measure

confectioner's sugar for sprinkling

Preparation:

Preheat oven to 325 F

It's best to use an electric mixer when making this recipe. In the mixer's mixing bowl, cream the butter first on medium speed to make it smooth and then on high to make it light and fluffy. When it is fluffy add the vanilla and almond extracts along with the ground almond and mix in well on medium low speed. Now add the flour and scrape down the sides of the bowl with a rubber spatula and continue mixing until well mixed.

Turn out the dough on to waxed paper. With a small scoop, make about 56 balls of dough and then roll the balls between the palms of your hand to form a 4 inch cigar shaped roll with tapered ends. Place on unbuttered cookie sheets about 1 inch apart and bend the dough ends to form a crescent shape. You will make about two pans of cookies. Bake 18-20 minutes and rotate the pans in the oven halfway into the baking process using the top racks of the oven.

These cookies will be fragile, so let them cool for about 2-3 minutes and then with a metal spatula carefully remove them from the pan, to pans or plates set on top of waxed paper and generously dust with confectioner's sugar that you sift over the still warm cookies.

Store in a box, if possible, with plastic wrap between the layers. If needed dust again with more confectioner's sugar before serving.