Almond Bundt Cake
Convert the recipe


Works in most Browsers
Recipe by: Chef John V.
Serving size: 16 pieces
Preparation time: about 2 hours total, 30 minutes mixing and 1 1/2 hours baking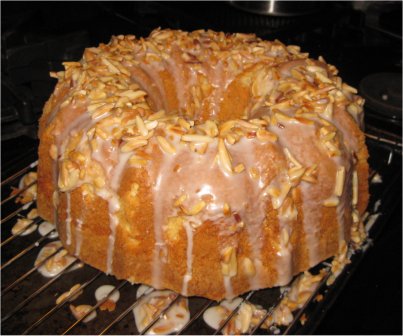 Amount/Measure/Ingredient:
1 cup butter, softened
2 cups white sugar
4 eggs, large---room temperature
2 teaspoons pure almond extract
1 1/2 teaspoons pure vanilla extract
2 1/2 cups all-purpose flour
1 tbsp. cornstarch
2 teaspoons baking powder
1 teaspoon salt
1/2 cup ground almonds
1 cup milk
Topping:
1/4 cup heavy cream + 2 tbsp. milk
1 1/4 cups confectioners sugar
1 tsp. lemon juice
1 teaspoon almond extract
1/2 cup toasted sliced or slivered almonds

Preparation:

Preheat oven to 350 degrees F (175 degrees C). Grease and flour a 10 inch Bundt pan, do a good job here to prevent sticking! Mix together the flour, cornstarch, baking powder, salt and ground almonds. Set aside.

In a large bowl, cream together the butter and 2 cups sugar until light and fluffy. Beat in the eggs one at a time, then stir in the 1 1/2 teaspoons almond extract and vanilla. Beat in the flour mixture alternately with 1 cup milk, mixing just until incorporated. Pour batter into prepared pan.

Bake in the preheated oven for 60 to 70 minutes and turn around after 30 minutes for even cooking. A wooden skewer inserted into the center of the cake should come out clean.

Cool for 10 minutes and invert on a wire rack. Cool 10 minutes longer.

Place rack on waxed paper. Combine 1/4 cup milk, 1 cup sugar, 1/2 teaspoon almond extract and toasted sliced almonds; pour over warm cake.