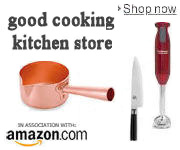 Convert the recipe

to another language.
Works in most Browsers
Asparagus Parmesan
Recipe by: Chef John V., A Good Cooking Recipe!
Serving size: 2
Preparation time: about 15 minutes

Amount/Measure/Ingredient:

16 spears asparagus, trimmed, peeled and blanched in boiling salted water
1 tbsp. parmesan cheese, grated
1 egg, large, beaten + 1 tbsp. cold water
1/2 cup flour
1 cup bread crumbs, fresh made, crust removed
1/2 tsp. garlic, freshly minced and peeled
1/2 tsp. salt
1 pinch ground white pepper Preparation:

Trim, peel and blanch the asparagus in boiling salted water for one minute. Remove and cool in cold water; drain well. Dip the spears in the flour that has been seasoned with the salt and pepper, then into the beaten egg and water mixture, then into the bread crumbs (to which the grated cheese and garlic has been added); coat well with the crumbs. In a frying pan heat the oil over medium-high heat, add half of the spears and saut on all sides until golden in color, drain on paper towels and keep warm while you cook the remaining spears. Serve with a marinara sauce and additional grated cheese over freshly cooked thin spaghetti.