Banana Cream Cake with Rum Buttercream
Convert the recipe


Works in most Browsers
Recipe by: Chef John V.
Description:A Bananas and rum are a delicious, slightly tropical combination. It's layered with a banana pastry cream, topped with a buttercream laced with cinnamon, cloves, nutmeg and rum and glazed with chocolate ganache.
Serving size: 12 portions
Preparation time: about 1 hour, plus baking and cooling times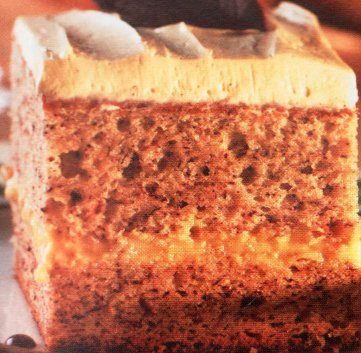 Amount/Measure/Ingredient:
Banana cake:
12 tablespoons unsalted butter, softened
2 1/4 cups granulated sugar
1 ½ cups fresh mashed ripe banana (about 4 small-medium bananas)
3 x-large eggs
1 ½ teaspoons vanilla extract
3 cups cake flour
1 ½ teaspoons baking soda
½ teaspoon salt
¼ cup sour cream
1½ ounces bittersweet chocolate, grated

Banana pastry cream:
1 cup whole milk
½ cup granulated sugar
¼ cup all-purpose flour
1/8 teaspoon salt
2 x-large egg yolks, slightly beaten
½ cup mashed banana
1 tablespoon fresh lemon juice

Rum buttercream:
¼ cup granulated sugar
¼ cup water
2 x-large eggs, at room temperature
1/4 tsp. of salt
14 tablespoons unsalted butter, softened but still cool
¼ teaspoon cinnamon
1/8 teaspoon cloves
dash of ground nutmeg
1 tablespoon dark rum

Preparation:

1. Make the banana cake: Preheat oven to 350F. Butter and lightly flour a 13" x 9" metal cake pan. Line bottom with parchment paper. Place butter in howl of heavy-duty electric mixer fitted with paddle attachment, cream butter until soft and smooth. Add sugar and mix until combined and light in color. Add banana, eggs, and vanilla and beat well.

2. Combine flour, baking soda, and salt in medium howl with whisk. Add to butter and sugar mixture. Slowly add sour cream and beat until well blended. Fold in grated chocolate.

3. Spread in prepared pan and bake for 35 minutes, or until a toothpick inserted into center comes out clean.

4. Make banana pastry cream: Heat milk in medium, heavy-bottomed pan until very hot. Mix sugar, flour and salt together in bowl and stir in hot milk. Beat until blended with whisk and pour back into pan: bring to boil, while whisking. Continue to beat vigorously over medium-high heat for 4 to 5 minutes, until thick and smooth. Reduce heat, whisk in yolks and cook for a few minutes more. Cool, stirring occasionally.

5. Combine bananas and lemon juice. Mash until smooth and add to cooled pastry cream mixture. Cover and chill.

6. Make buttercream: In a small, heavy saucepan, combine sugar and water and cook over medium heat, stirring constantly and occasionally brushing down sides of pan with a wet pastry brush, until sugar dissolves. Remove pan from heat and attach a candy thermometer to side of pan.

7. In bowl of electric mixer, using whisk attachment, begin to beat eggs at medium speed.

8. Meanwhile, place sugar syrup over-high heat and cook, without stirring, until it reaches 238'F on candy thermometer. Immediately remove pan from heat and, with mixer off, pour about a 1/4 cup of hot syrup over beaten eggs. Beat at high speed until blended, about 10 seconds. Turn mixer off and add another 1/4 cup syrup, then beat at high speed for another 10 seconds. Repeat this process until all syrup is used.

9. Using rubber spatula, scrape down sides of bowl and continue to beat at medium-high speed until mixture is completely cool, about 5 minutes. Beat in salt.

10. At medium speed, beat softened butter 1 tablespoon at a time into egg mixture. Add spices and rum, increase speed to medium-high, and beat until buttercream is smooth and shiny, about 4 minutes.

11. Assemble cake: Remove cake from pan. Slice in half horizontally and place bottom back into pan. Spread prepared pastry cream over layer and place second half of cake on top. Spread buttercream decoratively on top and set aside.

Refrigerate the cake at least for 3 hours or overnight for best results before glazing with Ganache, and or slicing.

Serve cake: Remove cake from refrigerator 30 minutes before serving and cut into 12 servings.

Garnish with chocolate Ganache.

To make Ganache, hot heavy cream is poured over chopped chocolate, and the mixture is stirred until smooth.

8 ounces (227 grams) semisweet chocolate, cut into small pieces
1 cup (180 ml) heavy cream

The ganache is to be used as a sauce that is poured on a plate and then the cake is set on top of it.