Blueberry Muffins
Convert the recipe


Works in most Browsers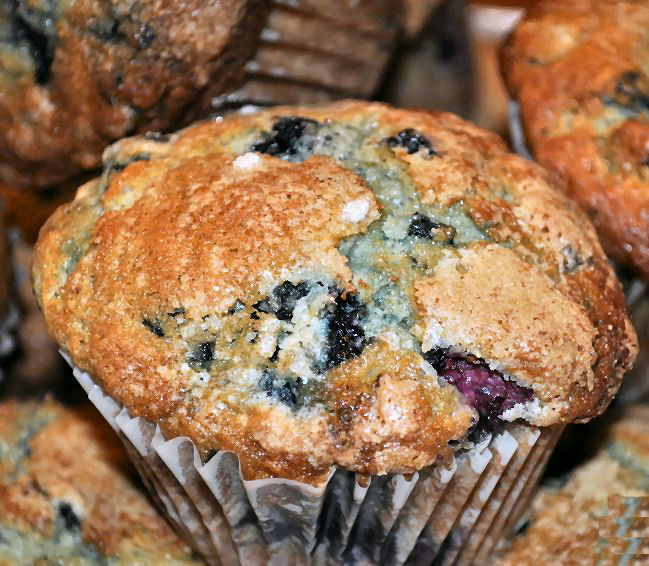 Recipe by: Chef John V., A GoodCooking Recipe!
Serving size: 12 jumbo size muffins
Preparation time: about 1 hour and 45 minutes
Amount/Measure/Ingredient:

3 cups flour regular all purpose
2 tablespoons cornstarch
2 tablespoons baking powder
1 tsp. baking soda
1 teaspoon salt
1/2 cup butter, unsalted
1/4 cup Crisco
1 3/4 cups sugar
5 eggs, large
1 teaspoon vanilla
4 cups blueberries fresh; picked over, washed and dried
3/4 cup cold buttermilk, you can use regular milk if you prefer
1/4 cup butter melted, to fold in
12 teaspoons sugar to top the muffins

Preparation:

Preheat oven to 375 F. Line muffin pans with paper cups and spray with shortening like PAM. Sift together flour, cornstarch, baking powder, baking soda and salt, set aside.

Wash and dry the blueberries, set aside

Cream the butter, shortening and sugar until light and fluffy. Add the vanilla, then eggs one at a time, and beat well. Don't forget to scrape the bottom of the mixing bowl to incorporated any ingredients stuck to the bottom.

Toss the blueberries with 1/4 cup of the flour mixture. Add the sifted ingredients alternately with the buttermilk. Add and mix in the floured blueberries and then fold in the melted butter.

Refrigerate the batter for 1 hour!

Scoop into the muffin cups so that tops are mounded and sprinkle each with 1 teaspoon of sugar. There should be no batter left.

Bake at 375 for 25 or 30 minutes or until a toothpick pulls out cleanly, in the center of the oven. Cool for 5 or 10 minutes and remove from the tins. For richer and more delicious muffins, brush with additional melted butter when they come out of the oven.