Chocolate Chocolate Brownies
Recipe by: Chef John V., A Good Cooking Recipe!
Serving size: about 24
Preparation time: about 35 minutes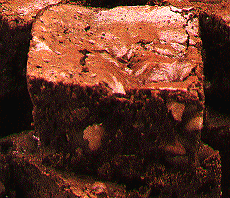 Amount/Measure/Ingredient:

4 ounces unsweetened baking chocolate (4 bars)
8 ounces semisweet chocolate morsels (about 3/4 of a 12 oz. package.)
3/4 cup butter (1 1/2 sticks)
2 cups white sugar
3 eggs
1 1/2 teaspoon vanilla extract
1 cup all purpose flour.
1 cup chopped walnuts

Preparation:

Heat oven to 350 degrees F.
Place the chocolates and butter in a saucepan over very low heat, stirring constantly, until melted and mixture is smooth when stirred. Keep warm. Grease a 13 x 9 x 2-inch baking pan. In a mixing bowl place the melted chocolate mixture and sugar and stir until blended. Add eggs and vanilla; mix well. Add flour and nuts, stir until well blended. Spread into the prepared baking pan. Bake 30 to 35 minutes or until a wooden pick inserted in the center comes out almost clean. Cool the pan on a wire rack, then cut into 24 squares.

Serving Ideas: Serve with fresh whipped cream or coffee ice cream for an added treat!