Cheddar Cheese & Garlic Biscuits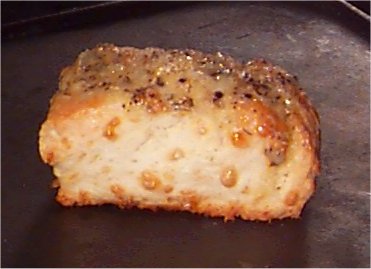 Recipe by: Chef John V.
Description: Savory Biscuits with Cheddar Cheese and Aromatic Garlic Flavors
Serving size: 12
Preparation time: about 0:30 minutes
Amount/Measure/Ingredient:
2 1/2 cups flour
5 teaspoons baking powder
1 teaspoon salt
3 tablespoons Crisco shortening
3 tablespoons butter
1/2 cup + 2 tbsp. milk, very cold
2 eggs large, beaten
1 cup cheddar cheese, grated and lightly packed into the cup
Topping ingredients---
1/4 pound butter, softened for the garlic spread
1 tablespoon garlic, fresh minced
1 teaspoon oregano flakes
1/2 teaspoon black pepper, fresh ground
1/2 teaspoon salt
Preparation:

Preheat oven to 425' F. Sift the dry ingredients. Cut in the butter and vegetable shortening with a pastry blender or fork. You can use a food processor too. Stir in the milk, beaten eggs and the cheese quickly so it forms a soft mass, pat it together into a ball. Refrigerate the dough for 15 minutes, place on a floured surface, fold and kneed 12 times, about 1 minute then pat and roll to 3/4 inch thick rectangle. Cut into 12 - 2 inch squares and place on a baking sheet lined with parchment paper that has been coated with cooking spray. Mix the butter, garlic, oregano, pepper and salt; reserve 1/2 of the mixture. Make a small slit 1 inch long and 1/2 inch deep in the top of each muffin and push in about 1 tsp. of seasoned butter into each one. Then brush each square liberally with the remaining butter mixture and bake 12-14 minutes or until golden brown. If you have a convection oven, turn it on. Remove from the oven and cool on wire racks. Enjoy!