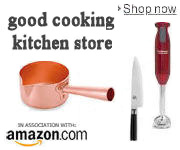 Convert the recipe

to another language.
Works in most Browsers
Roast Chicken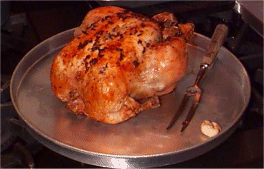 Recipe by: Chef John V., A Good Cooking Recipe!
History: This is the way I have roasted a chicken for many, many years.

Description:'This classic preparation has great flavor and comfort food appeal. It is certainly more tasty that supermarket bought rotisserie chicken. Student's at Boston University's Certificate in Culinary Arts Program are taught this method.
Serving size: 2-3
Preparation time: about 15 minutes for seasoning, 1hour 45 minutes for roasting and 10 minutes for resting
Amount/Measure/Ingredient:
1 -3 to 3' lb. fresh whole chicken
1 tsp. garlic, slivered
3-4 sprigs thyme (you may use rosemary, savory, tarragon or sage if you prefer)
2 tsp. Kosher salt for the inside
1/2 tsp. black pepper for the inside
1 tbsp. canola, vegetable or mild olive oil
2 tsp. kosher salt
1 tsp. black pepper
2 tbsp. onion, grated coarsely
2 cups mirepoix, onions, carrots and celery cut ' inch dice
Preparation:
Preheat oven to 375 degrees F. Wash the chicken in cold water, towel dry. Season the cavity with salt, pepper, garlic and thyme. Truss the chicken. Rub with oil, remaining salt and pepper and grated onions.
Place on its side in a roasting pan. Roast for 45 minutes, then turn to the opposite side, add the mirepoix and continue roasting for 45 minutes. Increase heat to 400 degrees F. Turn breast side up and cook an additional 15 minutes. Remove from the pan and let it rest tented with aluminum foil while the pan juice is being made. Deglaze the pan with 1/2 cup chicken stock, veal stock or water, stir and then strain off the jus. Skin off the fat from the jus and keep it warm. Carve and disjoint the chicken and serve with the pan juices which have been strained and fat removed.
Note: You can make a stock from the remaining bones, trimmings and mirepoix.