Barbecued Chicken Skewers
Convert the recipe


Works in most Browsers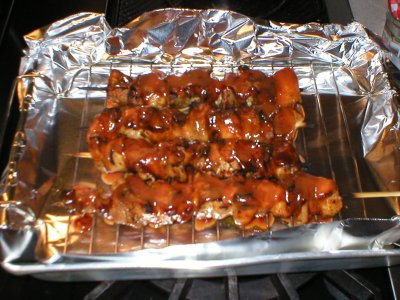 Recipe by: Chef John V.
History: This is one of my favorite grilled chicken dishes.
Description: Boneless and skinless chicken makes this dish lower in fat. The marinade and sauce make it full in flavor. Enjoy these skewers with a mixed salad topped with freshly made coleslaw and squares of corn bread.
Serving size: 4-6
Preparation time: about 1 hour to prepare the skewers and 10-12 minutes for cooking
Amount/Measure/Ingredient:
2 1/2 lb. chicken breast, boneless and skinless, cut 3/4 inch, 1 ounce pieces
1/2 cup olive oil
1 tbsp. oregano, dried
1 tsp. thyme, fresh if available
1/4 cup scallions, chopped fine
1 tsp. garlic, freshly peeled and chopped fine
2 tbsp. lemon juice, fresh squeezed'
1 tbsp. sugar
2 tsp. salt, Kosher or coarse
1 tsp. black pepper, fresh ground
2 tbsp. parsley, chopped fine
BBQ Sauce (To Glaze the Chicken Skewers) This can be made the day before!
1/4 cup onions, finely minced
2 tbsp. corn oil
2 tbsp. paprika
2 tbsp. chili powder
' cup cider vinegar
1 cup Heinz ketchup
1 cup tomato sauce, plain no seasonings, any major supermarket brand
1 tbsp. Worcestershire sauce
1 tbsp. Dijon style mustard like Grey Poupon
' cup dark brown sugar
2 tbsp. Kosher salt, Diamond Crystal is recommended---otherwise use any regular salt'but reduce the quantity to 4 teaspoons
Preparation:
For the skewers---Trim chicken of fat and sinew, then cut into chunks. Mix all ingredients together and marinate 1 or more hours before using. They can be marinated overnight. Skewer pieces of chicken on metal or wooded skewers. Each skewer should have 5 or 6 pieces of chicken on it. Place on a plate and cover with plastic wrap refrigerated until you are ready to grill. Note: If using wood skewers, soak them in water overnight. This will prevent them from burning while on the grill.
Prepare a fire on a charcoal or gas grill. You want to make a medium fire, so if using charcoal, spread out the coals after they turn white. Be sure your grill is clean and the grills have been rubbed with canola or vegetable oil. Grill the skewers about 1.5 to 2 minutes per side (there are 4 sides to a skewer) or until they feel firm to the touch. Coat liberally with BBQ sauce on the side facing up, cover the grill for 1 minute. Remove the skewers from the grill and place on a wire rack which sits on an aluminum foil lined baking pan. This is done so the skewers aren't piled up upon one another, which leads to the meat steaming and becoming rubbery and the foil keeps the bottom pans clean. It also makes for a bright, shinny presentation.''You may also place them back into your grill to re-heat then if you need to. Serve with your favorite accompaniments.
For the BBQ Sauce---Fry the onions in oil until golden but not brown. Add the paprika and chili powder, followed by the vinegar, bring slowly to a boil. Add the remaining ingredients; reduce the heat and simmer of 10 minutes stirring every few minutes. Place the pot over a bowl of ice water to cool. Store in glass jars.