Spicy Asian Chicken Wings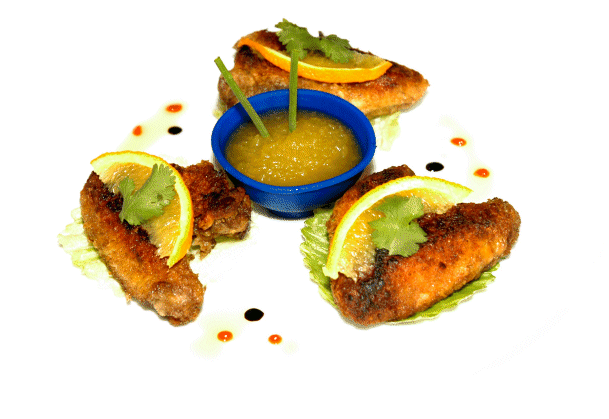 Recipe by: Chef John V.
History: This recipe is recreated from a version I had in San Francisco's Chinatown
Description: Appetizer, but you could double or quadruple the amounts for a main course. Dry marinated chicken wings fried in peanut oil and served with plum sauce, a.k.a. "Duk Sauce.
Serving size: 2
Preparation time: about 45 minutes
Amount/Measure/Ingredient:
6 chicken wings, medium size
2 tsp. soy sauce
1 tsp. garlic chopped fine
1tsp. fresh ginger juice
1 tsp. five spice powder
1/4 tsp. ground white pepper
1 tsp. sesame oil
1/4 tsp. sugar
3/4 cup flour
1/4 cup cornstarch
1 tsp. salt
1/2 cup peanut oil

Garnish:
Iceberg Lettuce Cut Outs
Chinese Plum or Duk Sauce
Srirachi Pepper Sauce
Soy Sauce
Sesame Oil
Orange Slices
Cilantro Leaves
Chives

Preparation:

Start by washing the chicken wings in cold water and then dry them on paper towels---throw the paper towels away. Place the wings in a bowl and add the soy sauce, garlic, ginger juice, five spice powder, white pepper, sesame oil and sugar. Mix well and marinate for 30 minutes. (You can marinate overnight for a deeper flavor.)

While the wings are marinating, prepare the the garnishes. To make lettuce cut outs, wash and dry iceberg lettuce leaves and cut them in 3 inch rounds with a cookie cutter, slice orange wedges thinly, wash and dry cilantro leaves, cut the chives and then keep everything cold on one plate covered with plastic wrap. Pour the plum or duck sauce into a serving ramekin for each plate. Have the soy, Sriracha sauce and sesame oil ready for dripping.

Remove the wings from the bowl and dry on paper towels, blend flour, cornstarch and salt and then coat the wings on all surfaces lightly with the flour mixture---shake off any excess.

Heat a frying pan over medium heat with the peanut oil. When hot 325 degrees F., a piece of bread will turn golden when added) add the wings, outside skin side down, and fry until golden. This takes about 3-4 minutes, turn over and fry the other side for 3-4 minutes, then drain on paper towels. This is like making fried chicken!

Assemble you plates, placing lettuce rounds symmetrically around the Plum/Duk sauce. Place a wing on each round of lettuce, garnish with orange, cilantro and drip on the Srirachi, soy and sesame oil as in the photograph. Garnish the sauce with chives and then serve.