Convert the recipe

to another language.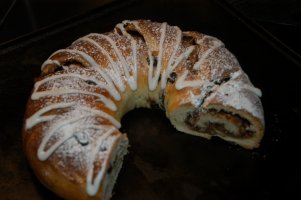 Recipe by: Chef John V., A Good Cooking Recipe! History: Moravian ring cake, just like my grandmother Victoria sister's made, thanks Stazi and Mille. 
Description:  Sweet and Crunchy Pecan Ring Coffee Cake
Serving size: 12
Preparation time: about 2 1/2 hours
Amount/Measure/Ingredient/Preparation
Coffee Cake Dough
2 tbsp. yeast
1 tbsp. sugar
2 tbsp. flour
¼ cup milk, warm

Blend together, cover and let a sponge form then fall back.

Add the following---
4 ½ cups flour
½ cup sugar
1 tsp. kosher salt
1 cup milk, warm mixed with 1 tsp. vanilla and 2 egg yolks, beaten
½ cup butter, melted
1 tsp. lemon rind, grated

Mix on medium speed for 6 minutes and add---
1/2 cup golden raisins--- Mix slowly for 2 minutes to incorporate.
Let rise until double, about 1 hour. Divide into 2 equal portions. Roll into a ¼ inch thick, 12x16 mat. Brush each piece with 4 tbsp. soft butter then sprinkle each piece with half of the following mixture that is coarsely chopped in a Cuisinart---

1 cup pecans
2/3 cup sugar
½ cup brown sugar
¼ tsp. nutmeg
1 tbsp. cinnamon

Roll up, jellyroll fashion into a 1 ¾ inch thick log, you may need to compress the roll with your hands and fingers squeezing it from the center out to the edges to get a 1 ¾ inch diameter and brushing off excess flour that might be rolled into the center with a dry pastry brush. Moisten the seam with water to help seal it, then on a oiled baking pan, form it into a circle and pinch the joining edges together. Egg wash and let it rise 60 minutes, slash the dough's top ¼ inch deep by 2 inches long with a very sharp knife or with a razor blade every 3 inches around the ring. Bake at 375 degrees F. for 20 minutes then turn the pan around in the oven, lower the heat to 350 and bake an additional 15 minutes. Remove and cool to luke-warm, drizzle the following over the pastry---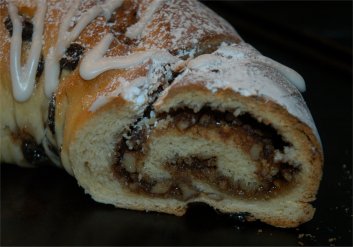 Royal Icing
2 cups powdered sugar 
1 large egg whites, room temperature
¼ teaspoon cream of tartar
½ teaspoon vanilla extract
½ tsp. water

In bowl of electric mixer (Slowly at first) beat together the confectioners' sugar, egg whites, water and cream of tartar on low to medium speed until desired consistency (about 5-7 minutes). Add more water, if necessary, with an eye dropper. This mixture should be spreadable, glossy and shiny but not runny and drippy. It's like whipped cream cheese!

To keep icing soft and shiny add a few drops of glycerin, available online at pastry supply sites or cake decorating stores. 

The icing needs to be used immediately or transferred to an airtight container as royal icing hardens when exposed to air. (or) dust with powder sugar. Let it harden then transfer to a serving dish. Keep in a loose wax paper wrapper, not a plastic bag as the icing will melt away and the pastry will become soggy.