More
Convert the recipe

to another language.

Meatballs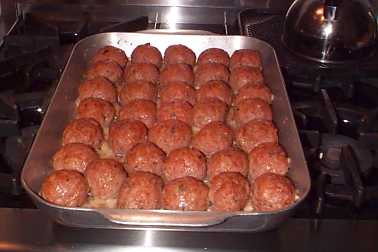 Recipe by: Chef John V., A Good Cooking Recipe!
Serving size: about 36 - 2 ounce meatballs
Preparation time: about 1hour and 30 minutes
Amount/Measure/Ingredient:
2 pounds ground beef, 85% lean
1 pound ground pork
3 large eggs, beaten
2 cups dried bread crumbs
1 cups milk
1 tbsp. salt, coarse grained like Kosher salt
1 1/2 tsp. black pepper, fresh ground if possible
1 tbsp. oregano
2 tsp. fennel seeds crushed fine
3 tbsp. olive oil
3 tbsp. butter
3 cups onions, diced very fine
2 tsp. garlic, minced
3/4 cup parsley, chopped fresh
1 cup parmesan cheese, grated
Preparation:
Pre-heat oven to 350 F. Melt the butter with the oil over medium heat in a pan, add the onions and garlic and cook until soft and beginning to brown. Remove from the heat and let cool completely. In a large mixing bowl combine the ground beef, ground pork, beaten eggs, bread crumbs, milk, salt, pepper, oregano and fennel. Mix well with a large spoon or use your hands (but wear a pair of surgical gloves to prevent cross contamination of bacteria). When mixed well, add the cooked onion mixture, parsley and grated cheese; mix everything together again. Cook a small piece in a frying pan and taste it to see if the level of salt and pepper is to your liking; adjust if necessary.
Form the mixture into 1 1/2 ounce balls, a #14 ice cream scoop works well for this portioning. Pat and compress together well and place in an oiled baking pan. Bake for about 25 minutes or until the internal temperature is 145-150 F. Remove from the oven and cool. You may serve the meatballs plain or with a sauce.
Recipe for a quick Tomato (Marinara) Sauce