Beef Pot Roast
Convert the recipe


Works in most Browsers
Recipe by: Chef John V.
Serving size: 4 with leftover for another meal or two
Preparation time: about 3 1/2 hours
About: I have fond memories of pot roast that was made by my maternal grandmother! Ah the tenderness, the flavor and the rye bread to sop-up the juices. My mom's wasn't bad either, nor was my mother-in-laws' or her mothers! I make a pretty darn good one too---I'd better, mine has been served to a King, a governor, some pretty important people and even to the average person. My cooking career has provided me with this opportunity and I'm proud of it!

(This is a piece of a whole boneless short rib portion before trimmed of fat and cut into 2 inches wide strips)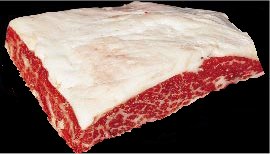 You can make a pot roast from most cuts of beef but less tender cuts such as those from the rib and fore area are the best choices for me. These chuck, rib and the shank pieces have the most flavor and have an appealing gelatinous and lip smacking stickiness after cooking.

Here is my basic pot roast recipe, which is part my grandmother's, part my mother's and part mine, developed by testing and tasting and making it a hundred or more times!

Amount/Measure/Ingredient:

4 pounds boneless short ribs; you may also use a lean boneless cut of chuck such as a top blade roast or boneless chuck shoulder roast---but---there is nothing like the boneless ribs

1 tbsp. coarse salt i.e. Diamond Crystal Kosher Salt, a professional chef's preferred salt
1 tbsp. ground black pepper, freshly ground if possible
2 cups all purpose flour
1/4 cup salted butter and 1/4 cup canola oil, this might seem like a lot but it is needed to get a good sear and to cook the mirepoix. Most will be skimmed off the resulting sauce before serving.
1 tbsp. paprika, Hungarian or Spanish
4 cups Mirepoix---50% yellow onions, 25% carrots, 25% celery which are rough diced at 1/2 inch
2 tbsp. garlic, chopped, not too fine
1 bay leaf, total size of a silver dollar
1 tsp. marjoram leaves, fresh if available
2 tsp. thyme leaves, fresh if available
1/2 cup crushed tomatoes
3 cups beer (reduce, cook down, ahead of time so only 1 cup of liquid remains)
4 cups beef stock or broth

1/2 cup roux---A cooked mixture of about 55% flour and 45% fat, (clarified butter, oil or both, i.e. canola oil. In a saute pan or heavy bottom pot warm the butter/oil but not too hot over medium heat, start stirring in flour with the wooden spoon. Stir continually with the wooden spoon over the heat so the roux bubbles and cooks. Cook about 5-7 minutes to make a blonde roux, it will be very hot! Transfer the roux to a metal or ceramic container and keep warm.

Braising---is a method of cooking that uses both moist and dry heat. Usually a meat is first seared at a high temperature and then slowly cooked in a covered pot with vegetables, herbs, spices and liquid, which results in a tender and flavorful dish. Pot Roasting is a form of braising with a bit more liquid which then tends a little towards stewing. Stewing tends to incorporate additional vegetables in the cooking process that are left in the finished dish. With braised items, these vegetables, mirepoix, are usually removed after they have left their flavors in the resulting sauce. In both methods additional thickening may be needed which is usually in the form of adding a roux.

To be successful use a heavy bottom pot such as a Dutch oven.

Note* Browning of the meat and vegetables will be done on top of the stove and the actual cooking will be in a 350 degree F. oven.

When ready to make this recipe, pre-heat your oven to 350 and just before starting the searing, pre-heat the Dutch oven over medium-high heat.

Preparation:

Trim and pat dry the meat, season with salt and pepper and dip into the flour on all sides. Add oil and butter to the pot, then add the floured beef and brown on all sides---keep the heat medium-high so the searing keeps going strong. This recipe works for the quantities listed. If increased, you will need to sear in two or three batches and maybe use a few different pots and pans.

When the meat is equally browned on all sides, sprinkle on the paprika and cook 2 minutes longer turning the meat a few times to coat it with the paprika. Remove the meat to a plate/platter and add the mirepoix, garlic, bay leaf, marjoram and thyme. Fry for 8-10 minutes to a golden brown color. Finally add the tomatoes.

(After searing the meat and browning the mirepoix the beer is added to deglaze the pan.)
(After cooking the beer, beef stock is added.)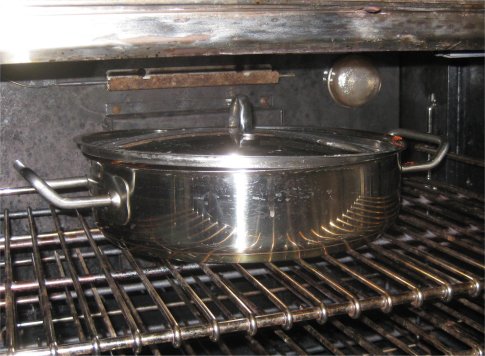 (The ingredients in the pot were brought to a boil and then the pot was covered with the cover ajar in a 350 F. degree oven to braise for about 2 hours. )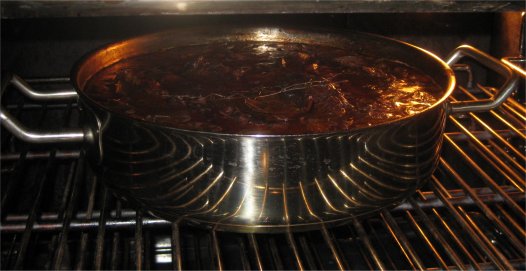 (After 1 1/2 hours of cooking the cover was removed to allow the liquids to reduce and for the meat to continue cooking until tender. A fork inserted into the meat pulled back out easily indicating the meat was cooked. It's still a little chewy and not mushy or falling apart as it is removed from the pot.)

The pot now comes out of the oven and the meat is carefully removed with spatulas to rest while the cooking juices are thickened with roux. The warm roux is added to the hot liquid and stirred with a wire whisk. The liquid is brought to a boil and the liquid thickened as you continue to whisk the sauce. Upon coming to a boil the heat is reduce so the sauce can simmer for 30 minutes, before straining and seasoning with more salt and pepper as needed.

To serve: Reheat the amount you want to serve in a pan with hot gravy. Any number of vegetables and starches from zucchini and noodles to green beans and mashed potatoes will work. I like salad with cucumbers and dill and lots of sliced seeded rye bread---yum!