Risotto con Crema, Fungi e Parmigiano Reggiano
Convert the recipe


Works in most Browsers
Recipe by: Chef John V.
Description:In a restaurant, a cook would prepare both dishes at the same time, so that when the Risotto was cooked so would be the mushrooms. The cook would then simply put the Risotto in a warm bowl and top it with the sauteed mushrooms. While waiting for the server to come for it, the cook would mix the parsley leaves with vinaigrette and then top the mushrooms and risotto the moment the server arrived for pickup, thus keeping the parsley from wilting under the heat of the kitchen's atmosphere.

At the table the server would provide a small dish of freshly grated Parmigiano Reggiano and a small pitcher of hot broth, for each customer to pour over the Risotto to season and to moisten the Risotto to their liking. You may choose to do the same or simply thin the risotto directly in the pot, serve it in a bowl and then top it with the mushrooms and parsley garnish. I suggest still serving the Parmigiano Reggiano at the table.
Serving size: 2 people as a main course or 4 as an appetizer.
Preparation time: about 30 minutes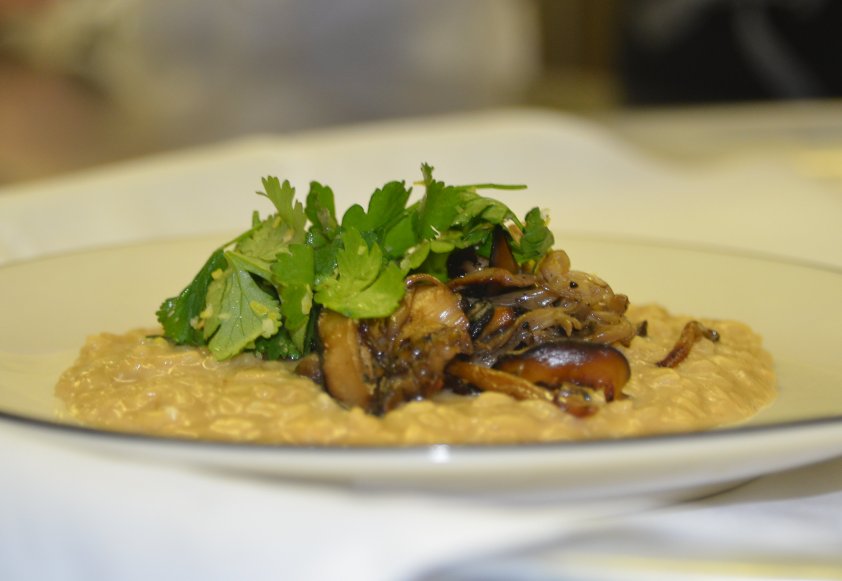 Amount/Measure/Ingredient:
Risotto

2 tbsp. butter
2 tbsp. olive oil
1 cup onion, finely chopped
1/2 tsp. fresh thyme leaves
2 cups Arborio rice
1/2 cup white wine
8 cups warm chicken stock or broth (reserve 1 cup to serve warm at the table)
3/4 tsp. salt and 1/8 tsp. ground white pepper
1/2 cup grated Parmigiano Reggiano
1/2 cup heavy cream
2 tbsp. unsalted butter
sauteed Mushrooms
2 tbsp. olive oil
2 tbsp. butter
1 tbsp. shallots, chopped
1 pound of assorted mushrooms, oyster, Crimini, chanterelle, porcini or whatever is in the market
1/2 tsp. salt and 1/8 tsp. ground white pepper, or to taste
1/2 cup Marsala wine
1 tsp. finely minced garlic
2 tbsp. finely chopped parsley
Parsley Garnish...
1 cup Italian parsley, washed and dried, leaves only
1 tsp. extra virgin olive oil
1/2 tsp lemon juice, fresh squeezed
1 dash salt
Preparation:

Risotto...
Heat the butter and olive oil in a large heavy-bottomed pan. Add the onions and thyme and cook over medium heat until the onion is translucent. Add the rice to the onions, stir the rice continuously for 2 to 3 minutes until it is glossy and the edges of the rice grains are translucent. Add the white wine and stir as the mixture bubbles. Once most of the wine has evaporated, start adding the chicken stock, about 6 ounces at a time, and stir the risotto continuously to prevent the rice from sticking. Keep stirring while you add the broth.

After approximately 20 minutes your risotto should be cooked. Taste to make sure the rice is done. Add the grated Parmigiano Reggiano cheese, heavy cream and butter and stir. Taste and adjust the seasonings.
Mushrooms...

Wash the mushrooms very quickly under warm running water and dry on paper towels as quickly as you washed them. Cut into quarters, slices and oblique shapes.

Heat oil and butter in a heavy skillet, when the butter turns light brown and add the shallots, stir quickly and then add the mushrooms. Sprinkle with salt and pepper. Cook over high heat, stirring and shaking skillet, about 2 minutes or until mushrooms are slightly crisp. Add the Marsala wine and cook 2 minutes longer. Add the garlic, cook, stirring, about 1 minute, then sprinkle with the parsley leaves tossed with extra virgin olive oil, lemon juice and salt.