Salmon w/ Sorrel Sauce
Recipe by: Chef John V.
Serving size: 1
Preparation time: 0:30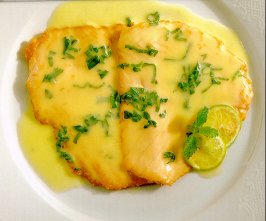 Amount/Measure/Ingredient:

5-6 ounce center cut salmon filet, butterflied
2 tsp. butter, soft
1 tsp. shallots, fine mince
1 pinch s&p mix

Sauce:
2 tsp. shallots
2 tbsp. butter
2 ounce white wine
4 ounce fish stock
1/4 cup heavy cream
s&p
1/2 cup sorrel, packed
1 tbsp. unsalted butter

Garnish:
2 thin lime slices
1 sprig lemon balm (optional)
1 tsp. chives

Preparation:

When you have a center cut or thick piece you need to butterfly it. Cut it directly in the middle, horizontally to the cutting board, in the middle, stopping before cutting all the way through and leaving a hinge.

Pound softly, and in different areas, as needed between sheets of plastic wrap, to form a uniform circular piece that is about 1/8 inch thick.

Rub a large plate's bottom with soft butter and then sprinkle with shallots, place the salmon on the plate so it looks like a perfect circle and maintains its 1/8 inch thickness. Cover with plastic wrap and refrigerate.

Sauce---saute shallots in butter until translucent over medium-low heat until translucent. Add the wine and reduce by ', add the fish stock and reduce by ' and now add the heavy cream and reduce slowly for 5 minutes. Puree with an imersion blender and season with salt and pepper mix. Return to the pot and bring to a simmer, add julienne sorrel and simmer 2-3 minutes, then whisk in the butter and turn off the heat. Keep warm.

Cooking---Place the salmon that is on the plate in a hot, 475-500 degree F oven or under a broiler for 2-3 minutes or until the fish is opaque and firm. Remove and spoon the sauce in the center of the salmon, trying to mound the sorrel in the center and letting the sauce flow over the salmon. Sprinkle with chopped chives and garnish with lime slices and lemon balm sprig if desired.
Note there will be extra sauce and you don't have to use it all.