Smoked Salmon & Cucumber Tartine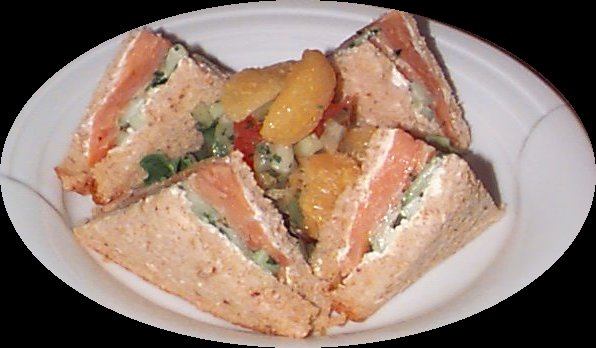 Recipe by: Chef John V.
History: A variation of an English Tea Sandwich
Description: Light and flavorful, this is a great Spring treat
Serving size: 1
Preparation time: about 15 minutes

Amount/Measure/Ingredient:

2 slices whole grain bread (Arnold 9 Grain is very good)
2 ounces soft cream cheese, horseradish and butter blended together (1/3 of each and mixed smooth)
3 ounce smoked salmon, use a good quality
2 tablespoons peeled, seeded, sliced cucumbers (about 12 pieces) To do this, peel the cucumber then cut it in half lengthwise, scoop out the seeds and then slice each half. Slices should be 1/8 in thick and resemble crescents.
1/2 ounce vinaigrette (see recipe)
1 pinch salt and pepper mixture (basic restaurant seasoning mixture of 1 cup salt and 1 tbsp. ground white pepper that is mixed together.)
1 tablespoon chopped parsley leaves
6 orange sections, freshly cut sections from navel oranges and a few drops of juice
3 slices pickled ginger and a few drops of the packing juice (Found in most oriental markets or specialty food stores)
1/2 tsp. olive oil
3/4 cup lettuce mixture (mesclum or baby greens) found loose or in plastic bags in most supermarkets. You may also use watercress or arrugula

2 ounces of vegetable salad (see below)

1 tbsp. cucumbers, peeled, seeded and diced `/4 inch
1 tbsp. tomatoes, peeled, seeded and diced 1/4 inch
1 tbsp. parsley, chopped
1 black olive, chopped
1 pinch salt and white pepper mixture sprinkled over the ingredients
1 tsp. vinaigrette dressing to moisten

Mix all ingredients and set aside.

Preparation:

Spread (each) side of whole grain bread with 1 ounce of horseradish, butter and cream cheese mixture. Fold and place smoked salmon on top of the bottom half of the bread slice. Mix the sliced cucumbers with 1/2 ounce vinaigrette, chopped parsley and pinch of salt and pepper mix. Spoon it onto the salmon sort of mounding it in the center. Top with the other half of bread making sure all the salmon is tucked in and away from the crusts edge.
With a serrated knife trim/cut away most of the breads crust so the sandwich appears to be almost square in shape, then press it down with your hand and cut it into quarters on the diagonal.
Place the quarters on a plate side by side. (See photograph) Mix the orange sections, ginger, oil and lettuce to coat it. Place the lettuce leaves in the center of the sandwich top with the vegetable salad (try and make the vegetable salad look as if it was scooped with an ice cream scoop) and then mound the orange and ginger on top as a garnish.