Steak Diane
Convert the recipe


Works in most Browsers
Recipe by: Chef John V.
History: This is a Classical preparation of Steak Diane. Normally it would be prepared tableside by a Captain in a grand hotel dining room. I had the opportunity to see this dish being prepared many times and learned to do the preparation myself. I have only changed the location of the cooking---now it is at your stove top, not tableside in a hotel dining room.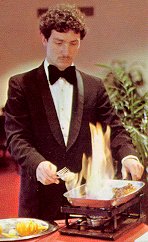 Description: Thin tenderloin steak sauteed with shallots, thyme, mustard, mushrooms and cream.
Note: You may want to slightly undercook the steaks prior to adding the cream and brandy so that the reduction process of making the sauce doesn't overcook them. With practice making this dish over and over, you will soon get it as you like it cooked--be patient!
Serving size: 4
Preparation time: about 15-20 minutes

Amount/Measure/Ingredient:

4 - 3 ounce center cut beef tenderloin medallions, trimmed of all fat and pounded to 1/2 inch thick, chilled
1 1/2 oz. clarified butter
1 tsp. Worcestershire sauce
2 tbsp. shallots, chopped fine
1/8 tsp. garlic, minced
1/4 cup mushroom caps, sliced 1/8 inch thick
1 tbsp. lemon juice, fresh squeezed
1 tsp. dry mustard powder
1/2 tsp. thyme leaves, fresh if possible
2 oz. heavy cream
1 oz. brandy
1 tbsp. parsley, chopped
1 tbsp. chives, chopped
salt, about 1/2 teaspoon or to taste
ground black pepper, fresh ground, 1/8 teaspoon or to taste

Preparation:

Whether you want to impress your guest or just make it for yourself, there is a sequence to be followed to make a perfect Steak Diane. For this dish you will need a heavy bottom fry/saute pan 12 inches in diameter. All ingredients will be cooked together, so a big pan is needed.

First in a small saute pan, 8 or 10 inches, heat 1 tbsp. butter over medium heat for 1 minute. Add the tenderloin steaks, sprinkle with a little salt and pepper, increase heat to medium-high and saute exactly 2 minutes on each side. Remove them to a plate and chill in a refrigerator for 5 minutes.

Pre-heat the large saute pan over medium heat for 1 minute. Add Clarified butter, then add the Worcestershire sauce to the butter. Place the shallots, garlic and mushrooms in the center of the pan with the tenderloin steaks around the edges. With a spoon, stir and toss the mushroom mixture. After 2 minutes add the lemon juice and season the ingredients with salt and fresh ground black pepper. Turn the steaks and add the thyme, chopped parsley and dried mustard powder. Now cook the steaks to the doneness you like. Leave them in the pan and add the heavy cream and chives. Tilt the pan slightly, and pour the brandy into the front edge of the pan, turn the heat to high and let the flame (or if electric, light with a match) catch the brandy's vapors and ignite it. Swirl slightly, turn off the heat and let the flame go out.

Voila! Your Steak Diane is done and ready to serve. Place medallions on plates and top with the sauce from the pan---enjoy this classic preparation and envision yourself sitting in a grand hotel dining room in Vienna or Paris while you enjoy!
Photo from Essentials of Tableside Cookery, School of Hotel Administration, Cornell University