Steamed Chicken with Ginger, Soy and Broccoli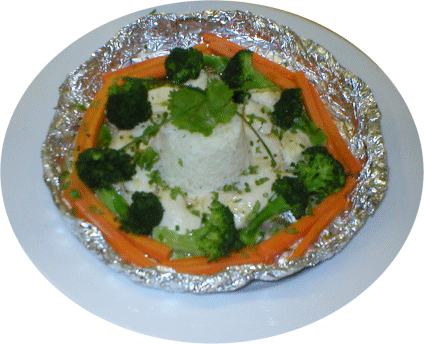 Recipe by: Chef John V. History: This is was taught to culinary students at Boston University, by me, as an example of steaming. The presentation above was done by Mary Wall, October 2003.

Description: Very simple steamed chicken dish that can be made with shrimp, scallops, pork, fish. You can change broccoli to asparagus, spinach, green beans or what ever you like. Serving size: 1 Preparation time: about 30 minutes Amount/Measure/Ingredient: 1 12 x 12 inch sheet of aluminum foil, heavy duty, formed into a circular pouch or use a 9 inch pie pan. See the photograph to get an idea of the shape.
1 tsp. oil, vegetable or canola---for foil pouch
6 ounces chicken breast, boneless, skinless and cut 1/4 inch x 2 1/2 inch strips
1 tbsp. cornstarch
1 egg white
1 tbsp. Mirim, sweet rice wine, available in most supermarkets Oriental food isle
1/2 tsp. sugar
1/2 tsp. kosher salt
1 dash white pepper ground
4 slices ginger root, peeled about 1 inch wide x 1/8 inch thick
1 cup broccoli floweret's
1 cup carrots, cut into 1/4 inch x 2 1/2 inch cut known as jardini re
1 tbsp. chicken stock Preparation: Cut the chicken and marinate with cornstarch beaten with the egg white, rice wine, sugar, salt and pepper for 20 minutes. Wipe a foil pouch 1 tsp. oil. Arrange the ginger on the bottom, drain the chicken and place on top of the ginger, arrange the broccoli and carrots on the chicken in a circular manner, leave a space in the middle to place a portion of rice. The arrangement is important for cooking time and aesthetically, add the chicken stock and set in a 10 inch saut /fry pan with cup water. Turn heat to medium heat, cover and steam for 5-6 minutes.

Soy Mixture
1/4 tsp sesame oil
2 tsp. soy
2 tsp. water
1 tsp. sugar

Combine the sesame oil, soy and sugar and mix for a sauce.

1 tsp. cilantro, washed well and chopped last minute
1/2 tsp. chives, slivered last minute

Remove the steamed chicken package, set on a plate, place a mould of white rice in the center. Drizzle with soy mixture and sprinkle with cilantro and slivered chives.