Spaghetti with White Clam Sauce
Convert the recipe

to another language.
Works in most Browsers
Recipe by: Chef John Vyhnanek
Description:A Classic Italian Clam and Pasta
Serving size: 2 portions
Preparation time: about 20 minutes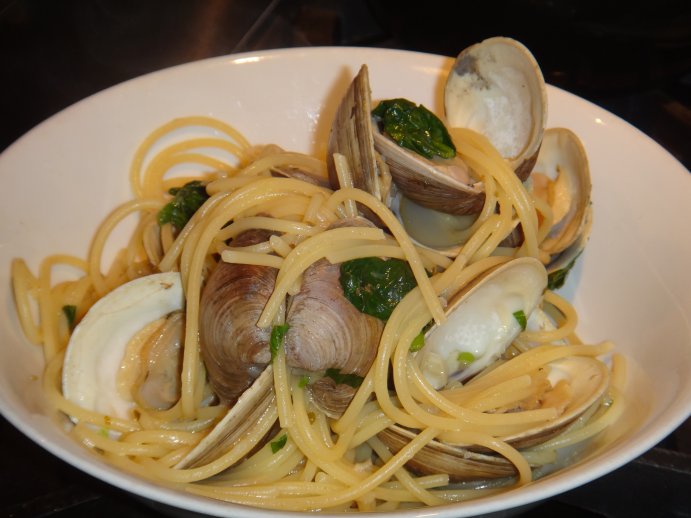 Amount/Measure/Ingredient:
2 tbsp. extra virgin olive oil, Colavita Brand---it's the best!
2 tbsp. butter, unsalted
1 tsp. garlic, fresh peeled, sliced thin
1 tbsp. shallots chopped
2 dozen littleneck clams, washed of grit
1 tsp. oregano, dried
1 slice of lemon, seeds removed
1/2 cup white wine, chardonnay
1/8 tsp. ground white pepper
1 pinch cayenne pepper
2 tbsp. parsley chopped
2 tbsp. scallions chopped
1/2 pound spaghetti, cooked al dente, De Cecco---an excellent Italian Pasta Maker
1/2 cup spinach, cooked
2 tbsp. extra virgin olive oil
2 tbsp. butter, unsalted

Preparation:
Timing is key, you want the clams to be finished cooking about two minutes before the pasta is done so the al dente pasta can be tossed with the clams and their cooking juices!
Heat a large heavy bottom pan over medium heat, add the first listed 2 tablespoons of extra virgin olive oil and butter. When the butter sizzles add the garlic and shallots, stir 30 seconds then add the clams, oregano, lemon slice and white wine, toss for 15 seconds and then cover the pot with a tight fitting cover. Cook over medium-high heat for five minutes. Remove the cover and add the ground white pepper, cayenne, parsley and scallions.
Start your spaghetti cooking in a separate pot of boiling salted water and cook al dente, usually 2 two minutes less than what the box says in the cooking directions.
As soon as the spaghetti is cooked, add the cooked spinach, then drain it and add it to the pot of clams, toss and mix well to incorporate all the ingredients over medium heat. Add the remaining 2 tablespoons of extra virgin olive oil and butter and stir to melt it. Taste to see if salt needs to be added, probably not.
Divide into two warm serving bowls placing several clams directly on top of the spaghetti for a nice presentation.

Please note that a dish like this is not served with grated cheese!