Chicken Tikka Masala
Convert the recipe


Works in most Browsers
Recipe by: Chef John V., A Good Cooking Recipe!
Serving size: 6-8 people
Preparation time: about 3 hours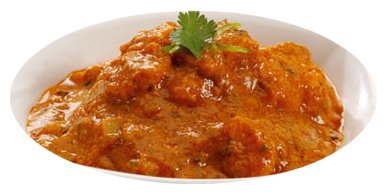 Amount/Measure/Ingredient:

Marinade
4 cups chicken breasts, boneless and skinless, cut into 1 inch cubes
1 tbsp. fresh ginger, peeled and grated
1 tsp. garlic, finely diced
2 tsp. salt
1/2 tsp. white pepper
2 tbsp. fresh coriander, finely chopped
1 lime, juiced
4 tbsp. peanut oil
1 cup plain yogurt

Sauce and Cooking Mixture
8 tbsp. clarified butter
2 cups onions, dice small
1 tbsp. garlic, chopped
2 tbsp. chilli powder, Indian Chilli, not the chili powder for chili con carne
2 tbsp. ground turmeric
1 tsp. coriander
1/4 tsp. cardamom
1 tsp. mace
2 tbsp. cumin
4 tbsp. tomato paste
3 cups chicken stock
1 tbsp. + 1 tsp. salt
4 tbsp. cornstarch mixed with 1/2 cup cold water
1 cup yogurt

Garnish
2 tbsp. chopped ginger
1/4 cup thin sliced shallots, deep fried like onion rings
1/4 cup coriander, chopped

Preparation:
Marinade---Cut the chicken into 1 inch cubes. Combine the remaining ingredients in the marinade list, mix well and add the chicken, stir to mix and then refrigerate for at least 3 hours or even better, over night.

Prior to cooking; stir up the chicken pieces you marinated and then pour everything in a strainer to drain for at least 30 minutes. Do the same with the yogurt, drain it in a strainer for 30 minutes.

Cooking the chicken---Preferably in a non-stick pan; and in 4 separate batches, follow these instructions for each batch. Have a large pot, for all the batches to fit in, for the slow cooking ready. Combine the chilli powder, ground turmeric, coriander, cardamom, mace and cumin in a container and set aside.

Heat the non-stick pan over medium-high heat and then add 2 tbsp. of clarified butter. Add 1/4 of the onions and garlic, saute for one minute, then add 1/4 of the chicken and sprinkle on 1/4 of the blended spices. Toss and saute for about 4-5
minutes until the chicken becomes firm and is coated with the other ingredients. Remove from the heat an spoon everything into the pot for slow cooking.

Repeat again and again and again until all the chicken has been sauteed.

Place the big pot on the burner and heat it until you hear it sizzle, then add the tomato paste, chicken stock, salt and bring to a boil, then reduce the heat to low so everything is simmering. Partially cover the pot, and cook for 20 minutes. Increase the heat so the sauce and chicken are bubbling and then re-stir the cornstarch and water, adding it to the pot. Stir well to mix it all together until it begins to boil and then turn it off.

After the pot has been off for about 5-10 minutes, stir in the drained yogurt and put everything into a serving bowl. Sprinkle with the all of the garnish and serve. Most often basmati rice, naan, Indian pickles, chutney, dal and stewed vegetables are served with the Tiika Masala and---something cold and refreshing to drink!
For other Indian Dishes, make your own Garam Masala---a.k.a. Curry Powder