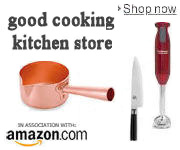 Convert the recipe

to another language.
Works in most Browsers
Individual Beef Wellington
Recipe by: Chef John V., A Good Cooking Recipe!
History: Classic European Culinary Preparation
Description:'Beef Tenderloin Baked in Puff Pastry
Serving size: 1 but this recipe could serve two people when accompanied with potatoes and vegetable, a salad and perhaps dessert.
Preparation time: about 1 1/2 hours

Amount/Measure/Ingredient:

1- 8 ounce filet mignon, (beef tenderloin) center cut, trimmed of all fat
2 teaspoons of butter
salt and pepper to taste

1 cup mushrooms chopped fine
1 tablespoon chopped shallots
1 tablespoon corn oil
1/2 teaspoon salt
1 dash ground white pepper
1 dash thyme
1 tablespoon Madeira or sherry wine
1/2 cup fresh chopped bread crumbs
2 teaspoons parsley freshly chopped

1- 10 inch square sheet of puff pasty dough, usually available in a stores freezer section.
1 egg, well beaten
1 tablespoon butter

Preparation:
In a frying pan over high heat add the first amount of butter and the filet mignon, season with salt and pepper. Brown on all sides, turning often for two minutes. Remove and cool immediately in the refrigerator. To the pan, over medium heat add the corn oil and shallots, cook one minute and add the mushrooms, thyme, salt and white pepper. Cook slowly for 10 minutes until most of the moisture has evaporated from the pan. Add the wine and continue to cook slowly until the mixture is fairly dry. Remove from the heat and add the bread crumbs and parsley. Stir in well and then cool completely.

Preheat and oven to 450 degrees C. Place the puff pastry dough on a lightly floured surface, in the center place 2 tablespoons of the mushroom mixture, then on top of that the filet mignon, then the rest of the mushroom mixture. Gather-up the edges of the dough tightly around the filet, pinching it all together at the center top. Trim away and excess dough as you gather it together. Butter the center of a baking sheet with 1 tablespoon butter. Pick up the dough encased filet and turn it over, placing it in the center of the baking sheet. Lightly press it down then brush it all over with the beaten egg. Before placing it in the oven cut a little hole in the top of the dough to let steam escape during cooking. Bake for 15 minutes for medium rare, (124) degrees C. in the center or increase the time to 20 minutes for med-well (13) degrees F. Serve as soon as possible, as it will continue to cook for a few more minutes after it has been taken out of the oven.

Serve with your favorite potatoes and vegetables. A simple sauce could be made during the preparation process by reducing 1 cup red wine with 2 cups of beef or veal stock to a syrup consistency and adding 1 tablespoon butter swirled in at the last minute.