Good Cooking since 1995


Tiramisu (tee-rah-mee-SOO)
In Italian, literally means "pick me up"!
Here are some fine examples!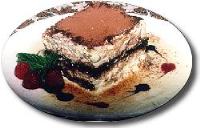 Presentation can vary greatly. The picture above is from La Trattoria in Key West, FL It is done in the traditional method; made in a baking pan and cut out like a slice of lasagna. Here it is nicely garnished with berries, mint and attractive heart shaped fruit puree swirls.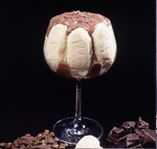 KozyShack, the pudding company, presents its version in a wine glass. It is a current and up-to-date presentation that many restaurants use.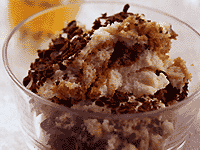 Cafe Avenue in Wellington, NZ presents it's version as simple as can be. It's in a glass bowl with only it's own goodness!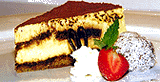 The French Patisserie in Pacifica, CA makes their Tiramisu look like a classic French pastry. I like this method and have served it in this fashion many times. It is a little tricky to prepare but the presentation value is greatly enhanced for restaurant use.
Recipe name: Tiramisu
Recipe by: Chef John V.
Note: The recipe is meant to be made in the style of the the picture above from La Trattoria in Key West, FL
This creation that had many an Italian crying for more. The cream cheese although not in Italian recipes, adds body. The egg yolks are cooked by the hot sugar so you don't have to worry about raw eggs. Don't pour the sugar in too fast or eggs will curdle! Don't skimp on the quality of the chocolate and cocoa---use the best you can afford, the same applies to the Marsala wine. Also use a good quality dark rum! Fresh brewed espresso is a must, you can even use decaffeinated!
Serving size: 4
Preparation time: about 40 minutes to make and 2 hours to chill
Amount/Measure/Ingredient:

4 tablespoons sugar
1/2 cup water
4 egg yolks
1 tablespoon sweet Marsala wine (+) 2 tablespoons for the espresso mixture. Use the best you can buy!
4 ounces cream cheese
6 ounces mascarpone cheese
8 ounces heavy whipping cream, whipped
2 cups espresso or strong coffee
1 ounce dark rum
2 tablespoons sugar
24 French-style ladyfingers
2 tablespoons powdered sweetened cocoa mix
2 tablespoons grated semi sweet chocolate
Preparation:
Cream Mixture: Cook sugar and water together until it reaches a temperature of between 234 and 240F on a candy thermometer, this is the soft-ball stage. At the same time, in an electric mixer, prepare egg mixture by whipping the egg yolks on high speed until pale yellow and thick, then slowly pour in the sugar syrup while mixing on high until the mixture is light and fluffy, Be sure to scrape down the sides of the bowl. With mixer on medium speed, add cream cheese and whip until smooth. Add mascarpone and Marsala. Mix until incorporated. Fold in whipped cream. Refrigerate.
Espresso Mixture: To prepare espresso mixture, combine espresso, additional Marsala, dark rum and sugar. Heat to 140 degrees F. then let it cool completely before using it.
To assemble, dip ladyfingers in espresso mixture. Place one layer of dipped ladyfingers on bottom of serving platter. Top with one layer of cream mixture. Add another layer of dipped ladyfingers, topped with a second layer of cream mixture. Sift cocoa over top.
Refrigerate for 2 hours before serving.
Sprinkle with grated chocolate.